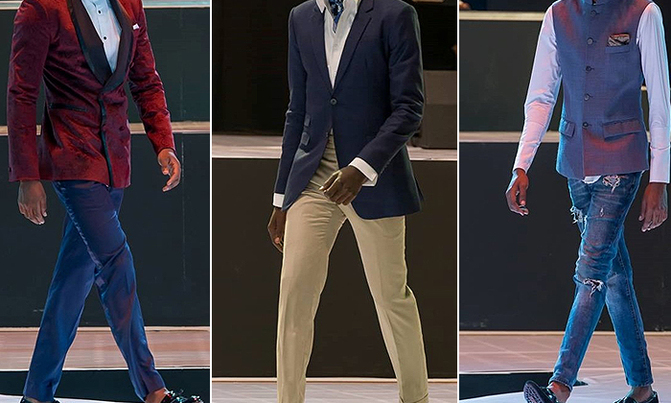 Plan your week-long wardrobe in time.
PIC: Make a fashion statement every day of the week

FASHION

KAMPALA - The long holiday is done with and gone. Work is what is on the radar, and you know you have to look the part. Look fresh, look new, look 2018 fashion forward. Here is a guide for every fashion forward male

Monday
Be the stylish elegant trendy male. Wear the pastel colours. Bring out your single breast blazer; wear it over a white long or short sleeve shirt. Dress down the look with khaki trousers and brogues shoes.
Nevy blue is a serious colour. Wear it and go attend to business deals

Tuesday
Bring your navy blue jacket out. Wear it over a white long sleeve shirt. Wear it down with narrow leg tuxedo trousers, and dress shoes.
This look will complete your Wednesday

Wednesday
Transition bit by bit into the weekend; wear the colourless black blazer with a dash of print on it narrow lapels. Wear the turtle neck white shirt under the blazer. Dress the look down with a narrow leg black pair of tuxedo trousers, and black loafers.

Thursday
Be fashion forward, celebrate colour. Wear pastel red blazer over a white shirt. Dress it down with navy blue tuxedo trousers, and black loafers.

Friday
Unwind your work week. Bring out your laid back look; wear pastel blue distressed skinny jeans and black loafers for the bottom. Go for the pastel blue breast coat, and wear a white shit under it.
Skinny jeans will make you look eye-catching over the weekend


Saturday
Bring out your black skinny jeans for the bottoms. Pair it up with a black fitting T-shirt and wear a checkered below the hip jacket.
The checkered jacket works margic on Sunday

Sunday
Bring out the tradition in you. Wear an Indian inspired look; sherwani. Bring out the checkered colorless jacket and black narrow leg trousers. Wear loafers for footwear.