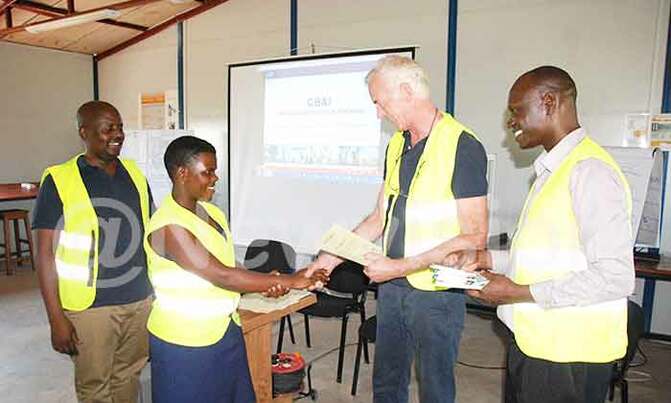 Out of the workers required, 15% will be engineers and managers, 60% are technicians and craftsmen, while 25% will be the unskilled category.
PIC: One of the students receives a certificate from Stuut and David Ilukor, a lecturer at Uganda Petroleum Institute Kigumba. (Credit: John Odyek)
OIL | TRAINING
KAMPALA- The Uganda Petroleum Institute Kigumba has stepped up its programme of equipping Ugandan craftsmen and technicians with skills to enable them get jobs in the oil and gas industry.

According to the oil and gas industry baseline survey, 13,000 workers will be needed from next year when the major construction phase of the industry takes off.

Out of these workers required, 15% will be engineers and managers, 60% are technicians and craftsmen, while 25% will be the unskilled category.

Bernard Ongodia, the principal, said the institute's major goal is to produce much-needed craftsmen and technicians such as welders and maintenance technicians who are safety and environmental sensitive.

"The training will be delivered in line with the petroleum industry requirements and standards. Most of the training programmes will be undertaken in periods ranging from one week to two years, depending on prior knowledge, training and competence of the trainees," Ongodia said.

Many welders and welder instructors from various technical institutions within the Albertine region have been undergoing a week-long intensive training aimed at increasing their safety, quality awareness and knowledge of relevant international standards at the institute.

The exercise is organised by Uganda Petroleum Institute Kigumba together with GIZ employment and skills for eastern Africa (E4D/SOGA) and Chicago Bridge & Iron (CB&I), a leading international provider of technology and infrastructure for the energy industry.

"We have upgraded their skills in welding quality and safety standards, for the oil and gas industry. On completion of the training, all trainees received certificates, Peter R. Stuut, the project quality manager of CB&I.

On the relevance of the training, Stuut said the training was based on European Norms, American Welding Society, American Petroleum Institute, and American Society of Mechanical Engineers standards.

In addition to short-term trainings, the institute runs a two-year diploma programme in petroleum engineering. It will roll out six additional programmes that will include a diploma in downstream operations to cater for aspects related to the refinery, safety and environment, among others.

Benjamin Mulinda, the technical expert, GIZ E4D/SOGA said the available welding courses in Uganda do not prepare trainees for the oil and gas industry. "This is why the programme supports the acquisition of international experts to scale up the training and skill levels," he said.

The training programmes are funded by the German, UK and Norwegian governments and Shell. In Uganda, it is implemented by GIZ in partnership with the directorate of petroleum in the energy ministry.