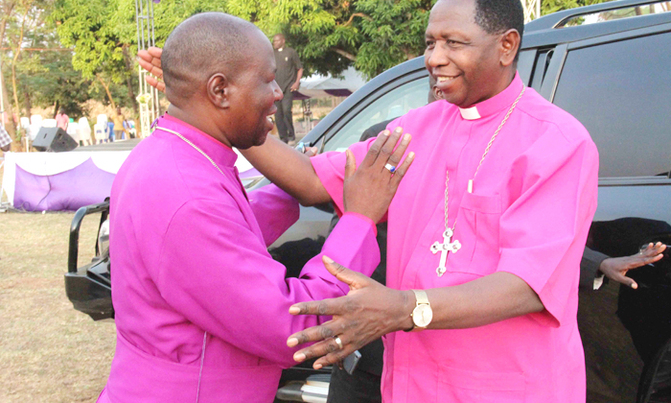 The Archbishop reiterated his position on exportation of labour, saying this is abroad is modern-day slavery.
PIC: Bishop of Lango Diocese Dr Alfred Olwa receiving the Archbishop Stanley Ntagali at Boroboro, Lira

LIRA - The Archbishop of the Church of Uganda, Stanley Ntagali, has warned the youth against going abroad in search of jobs.

The Archbishop reiterated his position on exportation of labour, saying this is abroad is modern-day slavery.

Ntangali made the remarks while opening a week-long convention organised by the Lango Diocese in Lira district. The convention was themed; Worship the Lord in truth and in spirit.

Several speakers, including the Director of Public Prosecution, Mike Chibita, bishops and near are lined up to deliver sermons to the believers.

Ntagali said the youth are lonely, jobless, others are being smuggled abroad to do weird jobs where they suffer.

He called on the youth to remain home because the English say East or West, home is best. He added that should appreciate that their country is blessed with fertile land.

Ntagali commended the bishop of Lango Diocese, Dr Alfred Olwa, for the good work both at the Diocese and at the Bishop Tucker Theological College, Mukono.

Among the dignitaries, the Archbishop commended Chibita: "There are few judges like you who know the Lord."

The bishop of Butere (western Kenya), the Rt. Rev. Dr Timothy Wambunya challenges the attendees at the convention whose lives were not transformed, to accept Jesus as their Lord and personal saviour. He urged them to do so in order to go back to their homes alive, otherwise, they are not living.

Not deviating from the legal language, Chibita said if people were to repent and turn to God, prosecutors would not have work.

"If all the people who go to church every Sunday and listen to the gospel do as they are told, the DPP would close the office in Lira," Chibita said.

He said he is working with the Government to ensure that the citizens are law abiding.

Chibita, however, expressed shock that in court, people swear by the Bible to speak the truth but go on to tell lies, making the work of the judge difficult.

He alluded this kind of behavior to the Biblical story in 1Kings 3:16-28, where women were claiming a baby and King Solomon had to make a difficult decision to have the child cut into two.

Chibita urged the people of Lango to worship God in spirit and in truth and follow in the footsteps of the Samaritan woman, who confessed to Jesus about her lifestyle.

According to Chibita, religious leaders should pick a leaf from Jesus Christ, who stooped so low to hold a conversation with a Samaritan woman - considered an underdog and went ahead to beg water from her.