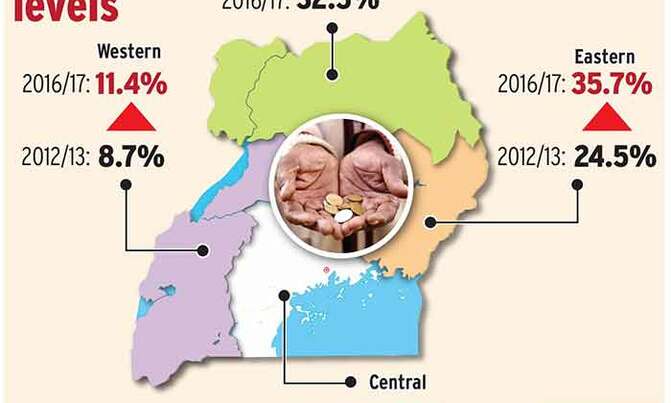 There was a reduction from 43.7% in 2012/13 to 32.5% in 2016/17.
POVERTY | SURVEY
KAMPALA - Whereas poverty has increased in the country in the last four years, northern Uganda is the only region that has recorded a decrease, according to the Uganda Bureau of Statistics (UBOS).

Releasing its final results from the Uganda National Household Survey (UNHS) 2016/2017 at the bureau on Wednesday, Dr Ben Paul Mungyereza, the executive director, said the proportion of the poor people increased to 21.4% in 2016/17 from 19.7% in 2012/13.

According to Mungyereza, the above increase is an indication that an estimated eight million people are living in poverty in Uganda as of 2016/17.

On the contrary, northern Uganda and particularly the Lango sub-region, experienced the highest decline of poverty levels in the north, where there was a reduction from 43.7% in 2012/13 to 32.5% in 2016/17.

"The return to normalcy in most parts of the north and the various interventions in the region could partly explain the high growth in household consumption and the decline in poverty," Mungyereza said.

Whereas Uganda's population stands at 37.7 million in 2017, Mungyereza said the number of people that were living in poverty as of 2005/06. In 2005/06 the population stood at about 27.2 million, which is almost the same 10 years later when the population increased by about 10.5 million, thus placing the population at 37.7 million.

The increase in poverty, according to the final survey findings, is also attributed to increased prices brought about by the prolonged drought that affected the entire country. This, the survey notes, affected agricultural production, a major source of livelihood for majority of the population.

The UNHS covered all 112 districts of Uganda, reaching 17, 450 households. The data collected supports evidence based decision-making by both the Government and development partners.