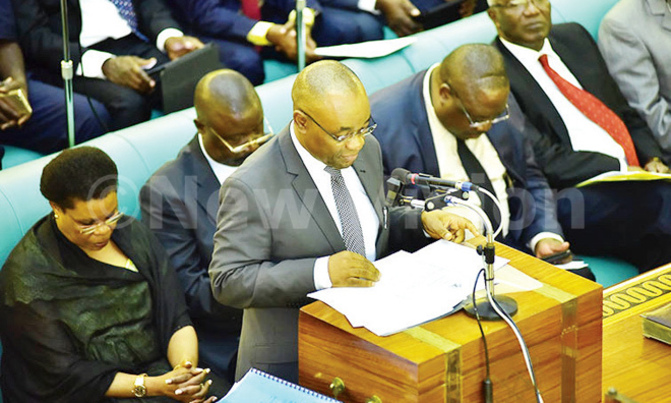 "They were receiving threats even from Opposition MPs, who were planning to embarrass them at public functions. Others wanted to attack their homes. So we had to secure them."
Igara West MP Raphael Magyezi was the brain behind the Constitutional Amendment Bill
Members of Parliament rushed to ask for Police bodyguards during and after the debate on the Constitutional Amendment Bill, 2017.
Sunday Vision has learnt that during the debate, MPs, especially those who were pushing for the scrapping of the presidential age limit, asked for protection, citing people who wanted to attack them.
Even after the Bill, many MPs went to their respective home areas with Police bodyguards.
Internal affairs minister Jeje Odongo confirmed this and said it was only MPs who were supporting the Bill that asked for protection.
"At the beginning of the debate, MPs expressed desire for protection, but I told them that it was not possible to provide each MP with a policeman due to limited resources. I advised them that any MP who will feel insecure can go to the nearest police station and ask for protection," the minister said.
He hastened to add that as Government officials, they were entitled to protection and the Police always gives them overt and covert protection. Parliament's director for communication and public affairs, Chris Obore, also confirmed the provision of security, but explained that not every MP was given bodyguards.
"Police guards were deployed to guard some MPs depending on threats levels. In any case, it is the duty of the Police to protect and prevent crime. Any citizen feeling insecure can ask for police protection. Nobody would deny an MP security if asked," he said.
Asked how many MPs were given guards, Obore said: "Security matters are always never public."

One MP, who sits on the legal committee and signed the main report that approved the removal of age limit, but did not want to be named, said they were given three Police guards each.
"They called me and asked, 'are you a member of the legal committee?' I said yes and they said, 'we have been instructed to give you guards'.
This was about two weeks ago. They did not tell us when the Police officers would be withdrawn," said the source.
Police confirms
Kampala Metropolitan Police commander Frank Mwesigwa confirmed it. He told Sunday Vision yesterday that a big number of MPs who were given security sit on the legal and parliamentary affairs committee that scrutinized the Bill.
"Almost all MPs on the legal committee got three guards each — a bodyguard and two at home. So the standard was three guards. It is only a few that did not get on this committee, but know that whoever had a credible threat was given security," he said.
Without revealing how many MPs were provided with security, Mwesigwa stressed: "They were receiving threats even from Opposition MPs, who were planning to embarrass them at public functions in their home areas. Others wanted to attack their homes. So we had to secure them."

What is the cost

A source within the Police said giving MPs guards is not necessarily an additional monetary cost to the Police because the Police guards receive their salaries, whether they are guarding someone or not.
"But if an MP travels, he must facilitate his guard from his own pocket. MPs have a security budget and the rates are specific according to the rank of the policeman they have.
The lowest officer is entitled to sh90,000 night allowance," said the source. The source, however, said the cost is on security.