The hospital serves nine districts, including Masaka, Rakai, Sembabule, Lyantonde, Lwengo, Kalungu, Kalangala, Bukomansimbi and Kyotera.
Masaka Regional Hospital. Photos by Davis Buyondo

Unlike the past seasons, Masaka Regional Referral Hospital has set up a mechanism to respond effectively to all sorts of emergencies during this years' Christmas and the New Year festivities.

Dr. Gonzaga Ssengendo, the Acting Hospital Director, told New Vision that they have held several departmental meetings and briefed all doctors and health workers about the expected emergencies.

He explained that the health workers underwent various drills on emergency preparedness.

"We have already put in place necessary medical supplies and roll-called all duty rosters. We want to ensure the doctors and health-care workers remain at the unit to offer efficient services," he said.

During the festive days, he added, disaster scenarios or emergencies skyrocket and the situation require rapid, effective response and full presence of medical staff.

The hospital serves nine districts, including Masaka, Rakai, Sembabule, Lyantonde, Lwengo, Kalungu, Kalangala, Bukomansimbi and Kyotera.

Ssengendo added that that both government and private hospitals and health units constantly refer complicated cases to Masaka.

Major life threatening emergencies identified include obstetric fistula (in which a hole develops in the birth canal) and ruptured uterus. For accidents, he noted head injuries, broken bones and others.

Oxygen in abundance
According to Dr. Ssengendo, the facility has enough oxygen to address the need in emergency situations.

"We shall have at least one big oxygen cylinder at every ward. We have a plant that can produce enough through the season," he said.

At Rakai hospital, the ambulance has been serviced and on standby to respond to any hazardous situations.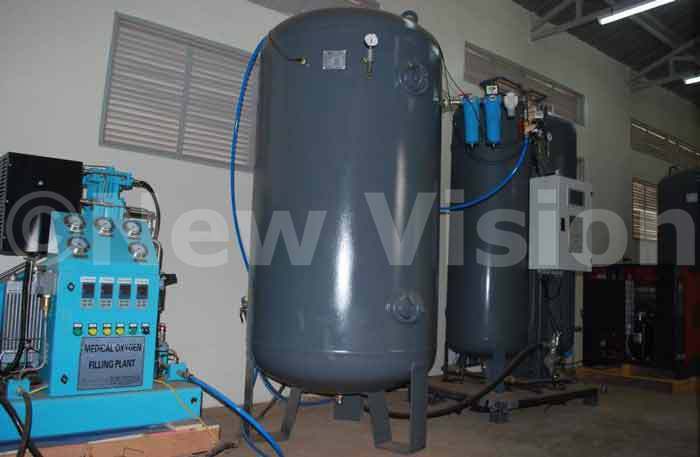 Oxygen cyliners at the hospital

Dr. Yasin Kiyemba, the Rakai Hospital Medical Superintendent, said most of the health workers are Muslims and determined to offer their time throughout Christmas season.


He added that most of the patients who are have recovered were discharged to join their families for Christmas while those in critical condition were retained.

With enough medical supplies, he said, they will be in position to handle various complications during the festive season.

One of the health workers on duty said she will be at the word attending to patients like any other normal day.

Police prepared
According to Lameck Kigozi, the Masaka-regional police spokesperson, all units are on standby.




Lameck Kigozi


He explains that the fire brigade trucks, ambulance and police patrol vehicles will be available to support any type of crisis.

"All officers in the region have been told to remain on duty during Christmas and the New Year celebrations. They will get their break when the festive season is over," he explained.

He further explained that they have put a toll free line 0800-199599 at for residents to call in case of any situation that needs police intervention.

He added that they are working hand in hand with local leaders and crime preventers to ensure safety and vigilance in different communities.

In Kalisizo hospital, the ambulance is on standby and most of the staff will be on duty, especially at the maternity ward.

Meanwhile major private hospitals and health centres have also restocked different medical supplies to offer effective services where they are due.