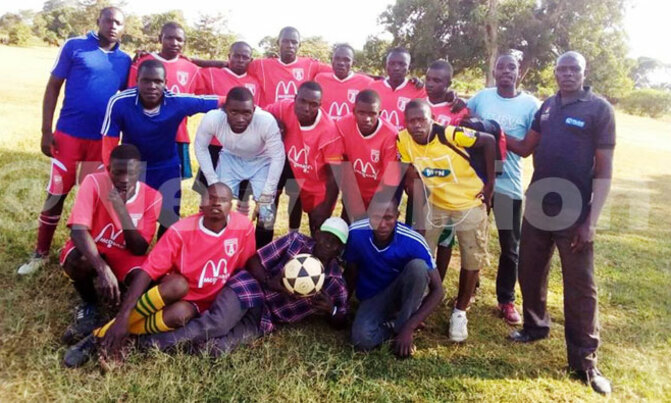 The tournament has attracted over 12 sub-counties from Kaliro district.
SPORT | FOOTBALL

Zibondo Cup results in Kaliro district:
Buyinda 2-0 Bumanya
Budomero 1- 2 Buyinda
Nawaikoke 2-0 Nansololo
Bukamba 0-0 Nawaikoke
Nansololo 0-2 Bukamba
Kaliro TC 2-0 Namugongo
Kasokwe 2-0 Namugongo
Nansololo 0-2 Bukamba
Gadumire 0-0 Namwiiwa
Kisinde0-3 Gadumire


Despite drawing 0-0 with Bukamba in the opening match, Nawaikoke sub-county toiled in the second match thanks to goals from Ali Tuunu and Lincoln Mubuli.

The duo netted in their 2-0 win against Nansololo as they progressed to the quarter finals of the first edition of the Bulamogi Zibondo football tournament that kicked off in Kaliro district at various football grounds.

''We won, but we need to be more clinical at goal if we are to win this tournament,'' Tuunu of Nawaikoke, said.

Meanwhile Bernard Zabona and Muzamiru Swaliki scored the all important goals against Nansololo that handed Bukamba the second slot to finish as runners up from group A.

Cordinator of the tournament Peter Tabingwa revealed that this year's tournament has attracted over 12 sub counties from Kaliro district with the main aim of uniting people from Bulamogi county .

Group A has Nawaikoke ,Nansololo , Bukamba.
Group B Gadumire , Kisinda and Namwiwa
Group C Kaliro TC ,Namugongo and Kasokwe
Group D Bumanya , Buyinda and Budomero

Tabingwa disclosed that the finals that were to be held on December 31 have tentatively been shifted to a later date to be decided by the organising committee where the winning team will walk away with a trophy , A bull and cash prize yet to be decided.