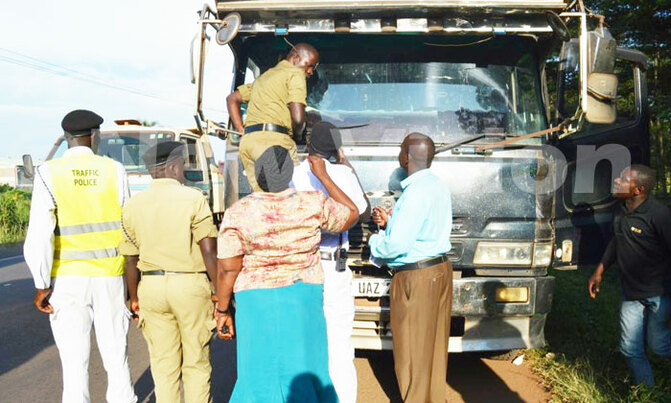 Ssemwogerere's colleagues found out he was dead through social media.
PIC: Police inspect the abandoned, blood ridden vehicle that the deceased was driving

CRIME | JINJA

Unknown armed thugs have abandoned a Fuso truck that was loaded with 300 bags of cement after killing the driver.

Police say the thugs shot James Ssemwogerere inside his vehicle, before dumping his body at Buwoola village in Mabira Forest, along the Jinja-Kampala highway.

The Ssezibwa Police spokesperson, Hellen Butoto, told journalists on Tuesday that locals passing by discovered the body and alerted the police. The body was taken to Kawolo Hospital.

Butoto said the deceased had a bullet wound in his forehead.

The Fuso, registration number UAZ 223C, was found abandoned at Mbalala near Seeta High in Mukono district.

The vehicle was littered with blood. Police suspect that Ssemwogerere was shot inside the vehicle, before his body was draged out.
The deceased's driving permit was found in the car.

According to details on his permit which was expiring on December 13, 2019, Ssemwogerere was born on January 26, 1976.

Ssemwogerere, 41, was a resident of Kazinga- Bweyogerere. a Kampala suburb. He also had a home in Osukuru UCI, Tororo district.

Ssemwogerere has been plying cement trucks from Tororo to Kampala.

He is said to have been killed on Monday night.

Ssemwogerere's body was posted on the social media and his colleagues who saw it went to Lugazi police, saying they knew him.

They told police that they had earlier passed his truck while parked, thinking it had developed a mechanical problem.

"I passed the deceased's truck on my way from Kyambogo to renew my permit, thinking Ssemwogerere was looking for a mechanic, only to see his photo posted on Facebook that he was dead," a one Sam said.

According to Patel Denany, who owns both the truck and cement, the Fuso had a tracking system.

Denany told police that he kept monitoring the vehicle and when it stayed in one place, they drove to the location, only to find blood in it and Ssemwogerere missing.

Denany wondered why the thugs didn't make off with the vehicle or cement, but killed their driver.

Police from Mukono, Mbalala and Ligazi have embarked on investigating the motive behind Ssemwogerere's death and the exact spot of the scene of crime.

Butoto says the thugs could have wanted Ssemwogerere's life or they feared making off with the truck, since it had a device that traces its whereabouts.