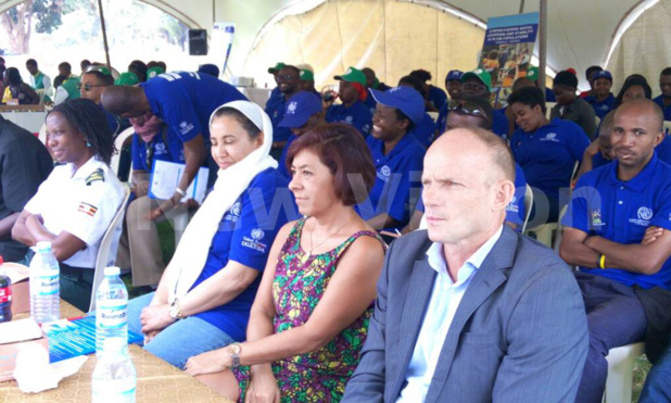 In 2000, the United Nations General Assembly proclaimed December 18, as International Migrants Day and since then the day is commemorated internationally
International Organisation for Migration (IOM), the UN migration agency has applauded Uganda for the proactive approach for advocating for the welfare of immigrants, done through signing different agreements with different countries and streamlining labour recruitment among others.
"IOM would like to thank the Government of Uganda for the strong partnership for the last 29 years. The proactive approach by the Government has allowed IOM to remain true to one of the migration governance principles, which is to work through partnerships," said Elisa Crowe, the IOM Uganda acting chief of mission.

This was during the commemoration of Migrants day at St. Peter's Primary School Nsambya, a Kampala suburb on Monday.
In 2000, the United Nations General Assembly proclaimed December 18, as International Migrants Day and since then the day is commemorated internationally.

However, Crowe asked the Government to crown the migration policy formulation process by passing the National Migration Policy.
"IOM has been keenly following government efforts to regulate the export of migrant workers in the Middle East. We would like the Government to increase these efforts, so that Ugandan workers that are migrating are protected.
Every time a Ugandan national is reported to have been trafficked or abused abroad, it gives a bad image of migration," she noted, adding that migration and free movement of labour have great potential to contribute immensely to development.

The United Nations Population Fund (UNFPA) country representative Alain Sibenaler, who represented the UN Resident Co-ordinator Rosa Malango, noted that migration challenges are real and United Nations need to contribute to words achieving the solutions.

"To this credit, the Government of Uganda has recently taken steps to try and streamline the recruitment of Ugandan nationals as migrant workers, by reaching out to governments in the Arab world and updating policies governing this movement. But we need to do more on this front, and do it with more conviction," said Sibenaler.

He added: "Let governments strengthen the existing labour agreements on free movement of people and goods as well as job creation in order to increase opportunities for young people in their home countries. Let us transform migration into a choice and avoid it being undertaken due to lack of choice."

Agnes Igoye, the deputy national co-ordinator prevention of trafficking in persons in the internal affairs ministry, noted that migrants have contributions to every country that they go in.
She said one out of seven people worldwide is a migrant and that means 1 billion people are immigrants in the world.

Igoye advised people to always use proper channels of migration and always consult and confirm about the kinds and descriptions of opportunities they are offered from abroad. She said helps the Government to provide consular services to them whenever they are.

"We have heard those reports of Ugandans who are picked on the road and the most notorious destination is the Middle East, so we have to constantly engage those countries and also encourage developed countries to sign those protocols that protect migrants and their families.
We are seeing that most of those protocols are signed by sending countries but we also call up on the receiving countries to follow suit," she noted.