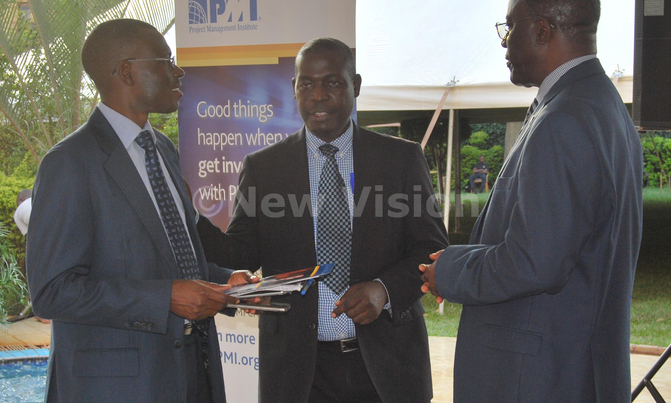 Nsubuga advised local companies to have their project managers certified for more success and lowers risks.
Organizations and companies have been advised by the Project Management Institute (PMI) Uganda Chapter leadership to employ professional project managers who are certified by the institute to curb fraud and corruption.
The president of PMI Uganda Chapter Hajji Abdul Nsubuga argued that regulated professional project managers are subjected to sanctions and disciplinary measures by the institute which involves withdrawing practicing certificate or dismissal of the person in case of fraudulent actions.
"Employing professionals is crucial for sound financial management; because project managers oversee big contracts that are essential to the company but a regulated manager can always be summoned for disciplinary measures to curb fraud and corruption in the organization such a person is working for," he said.
Nsubuga advised local companies to have their project managers certified for more success and lowers risks.
Nsubuga noted that without a doubt, good project management drives increased chance of success for delivering the economic value of the project.
"Organizations benefit from employees with knowledge of Project Management Professionals (PMP)'s domains, processes and techniques as they hold advanced knowledge needed to lead projects from planning to execution," Nsubuga explained.
Nsubuga sounded the advice during the PMI Uganda chapter annual networking dinner recently at City Royal hotel Bugolobi a Kampala suburb.
He explained that understanding effective project management techniques helps organization carry out large-scale projects on time, on budget and with minimal disruption to the rest of the organizations.
"certification helps the employee gain more project management skills that enhances delivering on temporary and unique ventures," he noted.
John Kalema, PMI Uganda chapter vice president in charge of membership said certified professionals seamlessly integrate resources across an organization's departments and utilize communication, planning and budgeting skills to bring projects to completion.
"Accredited project managers are skilled in project management techniques specific to dealing with one-time projects," he said.
During the networking dinner, the professionals listened to a paper on 'How a Project manager should prepare for retirement and remain relevant' delivered by Christopher Grace Musoke-Lwanga a Strategic Planning, Institutional Development, M&E and Capacity Building Expert.
Musoke said retiring is a special moment in a professional's life when the decision is made, and effected, to end being formally employed and instead become self-employed.
"The moment is special because; it demands courage, marks maturity in a professional's life cycle and it is fraught with multi-dimensional risk," he said.
Musoke highlighted that it gives one a great opportunity to embark on other self-directed productive endeavors, and exploit your potentials while still able to."it gives you ample time to enjoy peace of mind after getting done with formal direction and control," he said.