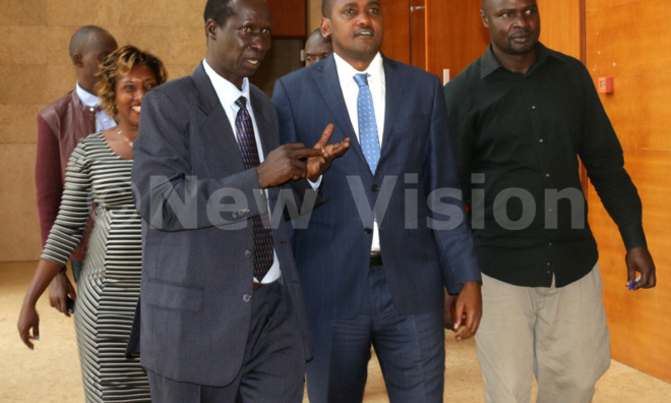 Tumwebaze noted that right content about government priorities is vital as it helps the population to have an informed discussion about existing policies
Francis Okiror chats with the Tumwebaze after the opening of the one-day capacity building training for district information officers at the Office of the prime minister, December 14. Photo by Maria Wamala
The ICT minister Frank Tumwebaze has said his ministry is set to start countrywide training of district information officers (DIOs) in digital skills such as social media usage, website updating as well as content gathering as a way of bridging existing communication gaps between the Government and local people.
He said this during the one-day meeting between the ministry and DIOs from different areas of the country. The meeting took place at the Office of Prime Minister in Kampala on Thursday.

Tumwebaze noted that right content about government priorities, achievements in certain localities is vital as it helps the population to have an informed discussion about existing policies.

He explained that the problem of lack of information not only exists among the DIOs, but has also extended up to the cabinet and Members of Parliament.

"We have the capacity to skill you digitally. How can you be a community development officer and you are not on social media, yet even the youth who do brick laying are on Facebook," he stated, adding that after the training, the DIOs will be given gadgets such as cameras and computers for proper information gathering and storage.

Some of the DIOs who attended the meeting decried limited funding to their offices, meager salaries and lack of communication platform such as airtime on radio stations where they can explain government programmes to people.

"The salary for a newly recruited DIO ranges between sh480,000 and sh750,000. Remember we go to the same market with people working in Uganda Revenue Authority, Uganda National Roads Authority, there is need to have salaries enhanced so that we can effectively work," said Francis Okiror, the chairperson for the Association of District Information Officers.

He explained that in 2012, a group of DIOs met the then Information and National Guidance Minister Karoro Okurut and proposed that at least 2% of district budget should be put in the information office, but up to then nothing has been done about it.

"The minister embraced and liked it but up to now, it remains on the piece of paper. In some districts the information office gets sh1m or sh500, 000 per quarter whereas others are not funded at all," said Okiror, who is also the District Information Officer for Pallisa.

David Wanyama, the Busia District Information Officer told New Vision that districts receive the Poverty Alleviation Funds (PAF) of which 8% of it is meant for the information offices, but some district planners "simply ignore" the DIOs.
He added the PAF projects involved a lot of activities such as establishment of boreholes, road construction and monitoring and evaluation of other government programmes.

While responding DIOs' concerns, Moses Watasa, the Commissioner for Information, Ministry of ICT & National Guidance noted that there is airtime given to the Government by local radio stations countrywide, saying they should use it to disseminate information.

He said there is need to use multimedia approach to information dissemination.

"Find out how much money has been allocated to the district, what has been done. All that is your work, make people understand government programmes and how they benefit," he stated.