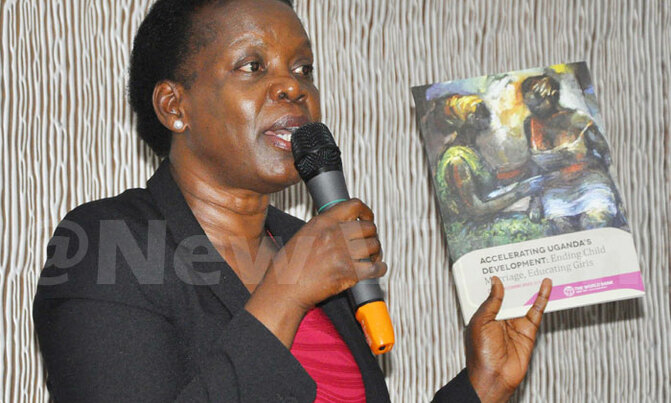 Studies show that about 40% of girls are married at a young age.
PIC: World bank social development specialist Catherine Barasa Asekenye displaying to journalists a report entitled "Ending child marriage educating girls" during the media training on reducing child marriages in Uganda at Hotel Africana in Kampala yesterday. (Credit: Nancy Nanyonga)
Cultural and religious leaders have been asked to champion the fight against the rampant early child marriages and early child bearing in the country. World Bank statistics indicate that Uganda is one of the counrty that records the highest cases of child marriages.
This is attrubuted to high poverty levels, bad customs and religious beliefs.
The World Bank, Senior Social Development Specialist, Catherine Barasa Askenye, argued that without the involvement of cultural leaders and religious leaders in the fight, all the strategies and programmes to end the problem would be a waste of resources and time.
"We need to have these people on board because of their influence in the community. Many people believe in them," she noted.
Asekenye noted that the same leaders are found in communities where these evils are committed. "We need a holistic approach to address this problem, with every stakeholder on board," she added.
She was speaking at the National Partners' meeting on Reducing Child Marriages in Uganda, organised by Uganda Media Development Foundation (UMDF) at Hotel Africana.
She thanked the media for its involvement towards sensitising the public on the dangers of child marriages and early child bearing.
"We thank the media for coming on board to end this vice. With your influence and coverage, we think this can supplement on the already existing government strategies and other interventions by various stakeholders," Asekenye noted.
The director of UMDF, James Kigozi, said they have partnered with several upcountry radio stations and trained journalist to tackle the problem through exposing the cases and sensitising the public on the dangers of early marriage.
Kigozi said their recent study in the areas of operation shows that about 40% of the girls are married at a young age.
He noted that the trends have changed since the programme started in different districts.
"But because of our intervention, we have seen more cases reported in the areas where we have media partners. Before several cases would go unreported," he noted.
Kigozi also stressed the media today is more positioned to play a developmental role in promoting conflict resolution and fighting early marriages, especially with over 200 radio stations broadcasting in different local languages.
Amon Kitooke from the Cultural Cross Foundation, said there is need to synchronise religious and culture leaders if the problem is to be addressed.
The UMDF chairman, also a veteran journalist, John Baptist Waswa, said the media needs to move from events and look at bigger picture of events to show the world what is happening in our local communities.
Rev. Achiles Kiwanuka from Holy Trinity Parish Kamwokya, said there is need to understand the root cause of the problem for a better solution. "We have seen the problem of poverty forcing parents to marry off their children, especially in Eastern Uganda. How do we deal with such?" he asked.