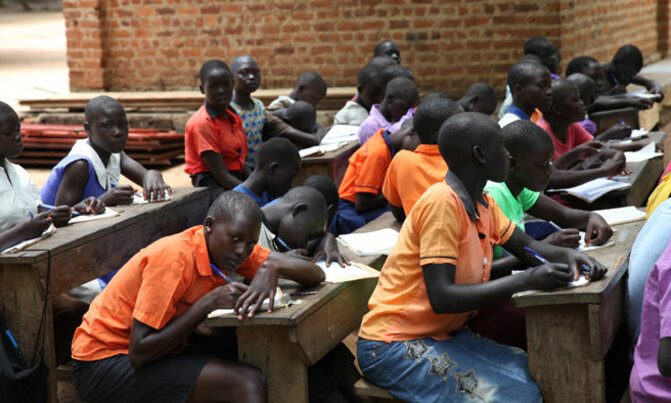 The refugees will be educated to university level as long as the war continues.
PIC: Some of the South Sudanese refugee children attending class at Torrit Primary School in Imvepi Settlement in Arua district

EDUCATION | REFUGEES

A total of 3,000 South Sudanese refugee children in Uganda will receive free education support up to university level as long as the tension in south Sudan remains.
The children in the refugee settlements of Palabek settlement and reception centre in Lamwo district, and Imvepi Refugee Settlement Camp in Arua district are being supported by an Irish founded local organisation called, Nurture Africa. The organisation is a rights based NGO that focuses on empowering the most vulnerable children in Uganda.
With support from the Nando and Elsa Peretti Foundation, based in Italy, Nurture Africa is supporting educational needs of pupils in four primary schools in the Imvepi and Palabek refugee settlements. The Nando and Elsa Peretti Foundation was founded in 2000 by Elsa Peretti in memory of her father, Nando Peretti.
The project supports projects in the humanitarian, educational, health, environmental and cultural fields. Together with 7 other organisations like the UNHCR and World Food Programme the €2 million donated by the Nando and Elsa Foundation will reach over 900,000 refugees.
"The schools are supported with scholastic materials, including exercise books, pens, school uniforms and sanitary pads," Brian Iredale, the chief executive officer of Nurture Africa, said.
He made the remarks on Saturday in Kampala as the organisation joined the country and the rest of the world to celebrate the International Human Rights Day, commemorated every October 10, across the world.
According to Iredale, his organisation has also paid for the requirements for examination fees for the refugee pupils to ensure that they sit for their national and termly exams.
For improved quality of education in the camps, Iredale noted that they have also offered teacher training focusing on methods of teaching for literacy, making and use of learning aids for literacy, as well as positive discipline of learners and teacher professional code of conduct.
The United Nations High commissioner for refugees (UNHCR) and partners have always provided legal support, social services including child protection, assistance to vulnerable persons and community building in the refugee settlements.
Nature Africa, has offered child protection intervention services to 7,000 children and adults.
"Unaccompanied minors and teen mothers are the most vulnerable and most at risk groups who need protection in Palabek. Orphans and children who head households are the most vulnerable in Imvepi," Iredale explained.
The organisation has been allocated areas in Imvepi and Palabek settlements to train and also strengthen the refugee community in child protection.
Nando and Elsa Peretti, with Nature Africa, plan to extend assistance to about 900,000 vulnerable people, especially those trapped in refugee camps.
It operates in four districts including Wakiso, Mubende, Lamwo and Arua where it takes care of vulnerable children.
Uganda has been hailed as a world leader in dealing with refugees. It is Africa's largest refugee hosting country with a total of 1.2 million refugees.
Statistics indicate that more than 85 percent of the refugees received in the country, are women and children below 18 years.