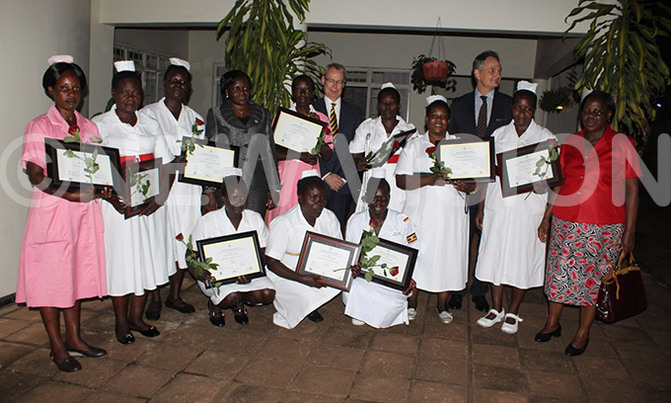 The awards ceremony was held at the Swedish Ambassador's residence in Kampala on Thursday.
A total of 11 midwives across the country have been awarded certificates for their excellent work towards the health sector.

They were awarded for excellence in midwifery and outstanding contribution to maternal and newborn health.

The awards ceremony was held at the Swedish Ambassador's residence in Kampala on Thursday.

The winners include Veneranda Musasizi from Mparo Health Center IV in Rukiga district, Catherine Mirembe , Mayuge Health Center IV in Mayuge district, Sophia Akello, Oguri Health Center IV in Lira district and Juliet Achom, Ngora Health center IV in Ngora district.

Juliet Chesuro, Chepkwasta Health Center II in Bukwo district, Meega Atimaku, Moyo Hospital in Moyo district, Betty Agan, Iriri Health Center III in Napak district and Eva Kabajungu, Kikuube Health Center IV in Hoima district.

Others are Juliet Namara, Kagongi Health Center III in Mbarara, Joyce Atim, Aawach HEALTH Center IV in Gulu district and Peace Kemigisa of Kyegegwa Health Center IV in Kyegegwa district.

"I'm really happy I can't even explain and understand. I remembered the last 15 years which I worked in Bukinda health center in Kabale delivering over 70 mothers a month. Sometimes I would be tired failing to walk but before I open the door I see behind someone calling me that there is a mother pushing in the vehicle and I had to go back without lunch," said Musasizi.

She is inspired to see that she has never had a death of a mother and prays that she retires without any.

The state minister for Health Sarah Opendi, presided over the function as chief guest and commended the winners for exhibiting extraordinary efforts in their service.

"These women, whether they are rural midwives or urban midwives, deliver not only a safe service but also deliver the hopes and dreams across the country. Without them many of us would not be here today." Opendi says.

According to the Uganda Demographic Health Survey (UDHS) 2016 there has been an increase in skilled attendance from 57% in 2011 to 75% in 2016 and this has been largely due to the presence of midwives.

Although there has been progress, a lot of challenges still hinder delivery of quality midwifery services.

A midwife is a trained health professional who helps healthy women during labor, delivery, and after the birth of their babies

Swedish ambassador to Uganda Per Lindgärde noted that midwifery is crucial in ensuring sexual reproductive, health and rights (SRHR) as well as maternal and newborn health care.

"Let us continue to work together to fight maternal mortality ensuring that more midwives are trained and recruited in areas where they are needed most," Lindgarde said.

He noted that investment in midwifery is not only an investment to save lives of mothers and newborns children. It aslo lays a foundation for individual and families to plan their lives and enables them to make informed choice.

Alain Sibenaler the United Nations Population Fund (UNFPA) representative commended the winning midwives for their dedicated work and using skills to save mothers and babies.

"Thank you for being committed and offering compassionate care to women at the time they need it most," he said.

He challenged the government to priorities recruitment and retention of the trained midwives and also to increase the wage bill to allow preferential recruitment of midwives especially for underserved districts.

However, Opendi promised that the wages of midwives are under discussion and will be increased.

The Swedish Embassy and the Swedish Midwives Association have since 2015 been reorganizing Uganda's midwives for their dedication and excellent service.