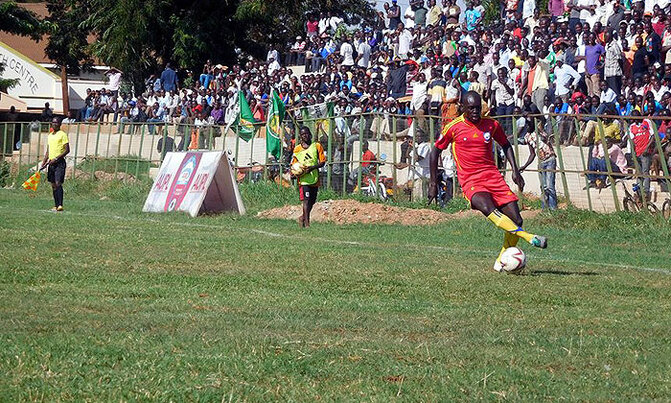 The coach is said to have attacked match officials, accusing them of bias.
SPORT | FOOTBALL
FUFA disciplinary Committee has given a four match ban to Kirinya Jinja SS coach Charles Ayiekoh Lukula . In addition to that, the Jinja club has also been docked one point and a goal.
In a reference made by the matche officials after Kirinya Jinja's 1-0 defeat to Soana at Bugembe stadium on November 4th it's reported that Ayiekoh attacked match officials accusing them of being biased.
This led to the throwing of stones by some the fans to match officials as they were accessing the dressing room but they were later rescued by the Police.
It's also reported that another Kirinya Jinja SS member of the technical team Hannington Kalyesubula verbally attacked the match officials.
With all this at stake, disciplinary committee came out with following decisions about the matter.
"The panel slapped a four match touchline ban on Kirinya Jinja SSS FC head coach Ayiekoh Charles Lukula for unsporting conduct towards match officials. Mr Ayeikoh Charles Lukula is not allowed to access the dressing rooms while serving the ban. Article 30.8(iii) of FUFA Competitions Rules," read the communication from disciplinary panel.
It also added that," Kirinya Jinja SSS FC loses one (1) point and one (1) goal from those already accumulated for Kalyesubula Hannington's verbal attack on the match officials in line with article 30.15 of FUFA Competitions rules which states that, "If the match official(s) report(s) indicate(s) that individuals or groups have verbally insulted a member of the match crew, the defaulting club from whom such an individual or group are judged by FUFA Disciplinary Committee to come from will lose one (1) point and one (1) Goal from those already accumulated for a league format competition".
The decision from committee sees Kirinya dropping from the eighth position to the tenth in the Azam Uganda Premier League with 17 points.