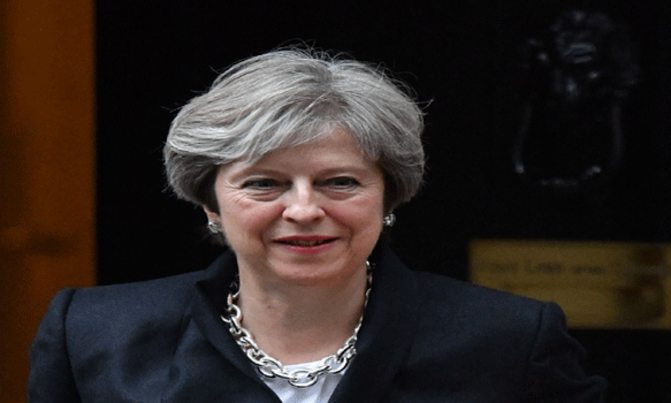 May will meet European Commission chief Jean-Claude Juncker and EU president Donald Tusk in Brussels for what the bloc says is the "absolute deadline" for an improved offer from London.
British Prime Minister Theresa May will try to seal a deal on Brexit divorce terms with EU chiefs on Monday, with the Irish border still the key stumbling block as months of tense talks reach a decisive moment.

May will meet European Commission chief Jean-Claude Juncker and EU president Donald Tusk in Brussels for what the bloc says is the "absolute deadline" for an improved offer from London.

European officials said a deal on separation issues -- which would allow the opening of crucial talks on a future post-Brexit trade deal at an EU summit on December 15 -- was "difficult but doable".

But while there has been progress on Britain's Brexit divorce bill and the rights of European citizens living in Britain, the fate of the frontier between Ireland and British-ruled Northern Ireland risks torpedoing a deal.

"Discussions are in a sensitive place right now," Irish Foreign Minister Simon Coveney said on Monday morning as the Irish cabinet prepared to hold a special meeting on the issue.

"Hopefully we'll find a way forward today but if we can't do that then the Irish government position isn't going to change."

Tusk effectively backed Ireland's right to veto the unlocking of the next phase of talks when he met Irish Prime Minister Leo Varadkar in Dublin last week, saying if Ireland was not satisfied then neither was the EU.

'Important staging post'

London has however rejected the EU's deadline and, ahead of next week's summit, appears keen to push the talks to the wire.

"With plenty of discussions still to go, Monday will be an important staging post on the road to the crucial December Council," a British government spokesman said.

May, Brexit minister David Davis and the prime minister's Brexit adviser Olly Robbins will have lunch in Brussels at 1215 GMT with Juncker, EU Brexit negotiator Michel Barnier and Juncker's chief-of-staff Martin Selmayr.

The British prime minister will also meet Tusk, who is in charge of summits, Downing Street said.

A formal EU decision on any deal is not expected until Wednesday, when Barnier reports to European Commissioners and then holds a press conference.

The remaining 27 EU states have demanded "sufficient progress" from Britain on the bill, citizens rights and Ireland in order to move on to talks on a post-Brexit transition period of up to two years, and on a future relationship including a trade deal.

Failure to do so this month could make the EU "rethink" whether an overall Brexit withdrawal deal is possible at all, Tusk has warned, raising the prospect of a chaotic exit with far-reaching economic effects.

Ireland is now the key issue, especially the almost insoluble problem of how to keep a "soft" Irish-UK border and avoid undermining a peace deal that ended decades of sectarian conflict in Northern Ireland.

The European Commission has drafted a "text" on the Irish border which both Dublin and London must now approve, but that is proving difficult, EU diplomats told AFP on condition of anonymity.

All sides agree there should be no return to physical border checks after Brexit, but Dublin's demand for written guarantees from Britain has proved an obstacle to an early agreement, also causing tensions with London.

Britain insists the issue can only be resolved as part of negotiations on the future relationship.

May also faces pressure from Northern Irish unionists who prop up her minority Conservative government not to create a "new border" within British territory by creating special customs arrangements on the island of Ireland.

Bill, citizens rights

But after months of deadlock, London and Brussels have effectively reached a deal on the contentious issue of the divorce bill, reported to be between 45 and 55 billion euros ($53-63 billion).

They appear to have reached a compromise, with London increasing its offer, but Brussels offering enough wiggle room for the British government to be able to present its own, lower figures to the public.

A deal is also close on the rights of more than three million Europeans living in Britain, although there is still disagreement over whether they would be protected by the European Court of Justice -- a red line for Brexiteers in Britain.

To iron out final EU concerns over the issue expressed by the European Parliament, Juncker will hold talks with senior MEPs including Brexit pointman and former Belgian premier Guy Verhofstadt at 1000 GMT on Monday.