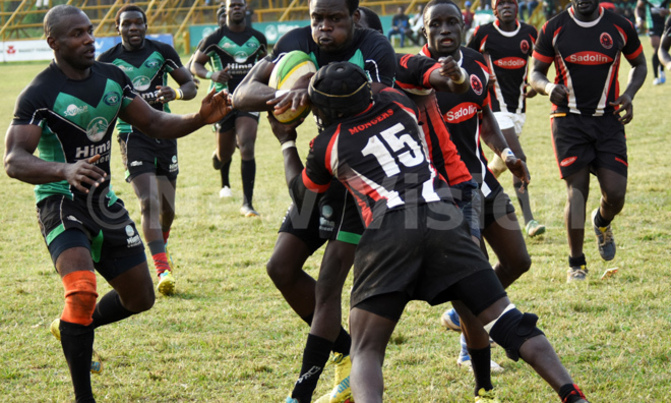 Rhinos are second on the table with 10 points, a point ahead of Mongers in fourth position with nine points
Heathens' Allan Omoding (with ball) battles Mongers' Hannington Mukalazi during their league game at Kyadondo last week. Photo by Johnson Were
Nile Special Premier Rugby League

Today (Saturday)

At Legends:

Kobs v Warriors, 2.30pm

Rhinos v Mongers, 4.30pm

At Kyadondo:

Heathens v Buffaloes, 4.30pm

In Makerere:

Impis v Jinja, 4.30pm

Top five on the table standings

Kobs 10 points

Rhinos 10

Pirates 9

Mongers 9

Heathens 6

The Plascon Mongers face Shell Rimula Rhinos in one of the highly billed game in the Nile Special Premier Rugby League at Legends rugby club today, with the former targeting a win.

Rhinos are second on the table with 10 points, a point ahead of Mongers in fourth position with nine points and that is what Mongers is targeting to overturn that one point margin and take that second position.

"We are coming for a win though we expect a tough challenge from the host," Mongers coach Kigongo Ssebalamu stated.

Impis will host Jinja at the Grave yard ground while Betway Kobs take on Warriors at legs at 2.30pm.

In the other game of the day Toyota Buffaloes target upsetting Hima Cement Heathens when they meet at Kyadondo Rugby Club.

Buffaloes Coach Edgar Lamerigar told New Vision that after a 3-0 defeat in the Uganda Cup by Heathens; they have tried to correct their mistakes and are ready for a fight.

"We are taking the same game structure we took to them in the Uganda Cup, but minimising on our errors which led to our defeat in our previous encounter," Lamerigar stated.

"Players like Eric Kasiita, Pius Ogena, Kevin Keremundu and Solomon Okias to the National 7s team but we are ready," Lamerigar said.

He added that players like Charles Uhuru, Norman Luwum, Solomon Sebugenyi and Kenneth Ochaka are doubtable due to injuries but he has good replacements including Emmanuel Onen, Farag Odugo, Ali Hyder and Richard Bomoka.

However, Heathens' coach Muhammad Athio when contacted said that they are not going to give Buffaloes the leverage they received in the Uganda Cup.

"We are vulnerable especially after poor show in the Uganda cup and league against Pirates but we are going to come up strong for a win," Athio said.

"Our defeats were a good learning curve and we have to win this game to redeem our hopes of defending the League," Athio added.