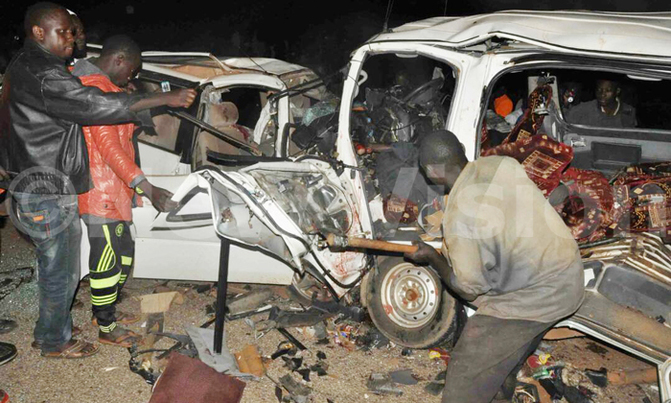 Residents and relatives of the injured were forced to hire trucks to transfer their dear ones to Mulago Hospital after they were told the available ambulance had no fuel.
Nine people have been confirmed dead and many others seriously injured in a fatal accident, which occurred on Friday evening at Boza, Mpigi town council on Mpigi-Butambala road.
Some of the victims of the accident. Pictures by Paddy Bukenya
According to eyewitnesses, the accident occurred at around 9:30pm when a commuter taxi registration number UAZ 252M, which was heading to Gomba district collided head-on with a Toyota Ipsum Number UAP 825A, which was coming from Butambala district heading to Mpigi.

According to Joseph Musana, the Katonga regional Police publicist, the taxi driver who was only identified as Mande, was driving at high speed and hit the Ipsum which was carrying members of the same family. The family members were from an introduction ceremony in Butambala district.
Survivors at Mpigi Health Centre
Police identified the deceased as one Mande, the taxi driver, William Kituula, Yusuf Kigundu, Kyagulanyi, Kyasanku,Topie Wakabulya, Ruth Mutesi, a nurse at Mpigi Health Centre IV, Ivan Mutalya and one identified as Michael.

The injured were identified as Phiona Namata, Jovia Nakivumbi, Sande, Musa, Beatrice Tumuhimbise and others yet to be identified.


Residents try to rush victims to hospital
The injured were rushed to Mpigi Health Centre IV in critical conditions as some sustained broken limbs.

There was commotion and stampede at Mpigi Health Centre as relatives, friends and residents of Mpigi town council flocked the facility to check on their loved ones who were involved in the accident.

Residents and relatives of the injured wanted to transfer their relatives to Mulago Hospital in Kampala for further management and treatment, but were told that the only ambulance, which was called from Gombe Hospital had no fuel, which angered them.
Residents break the wreckage of the vehicles to remove bodies
Some of the victims lay on the floor of the health centre for more than two hours without attention.

Two trucks were later hired which were used to transport injured victims to Mulago Hospital for further treatment and management.
Victims being rushed to health centre
The bodies of the deceased were taken to Mulago Hospital mortuary and the wreckages of vehicle involved in the accident were towed to Mpigi central Police station.

According to Joseph Musana, the Police in Katonga region have launched an operation on all errant drivers on the roads as the country prepares for the festive season.