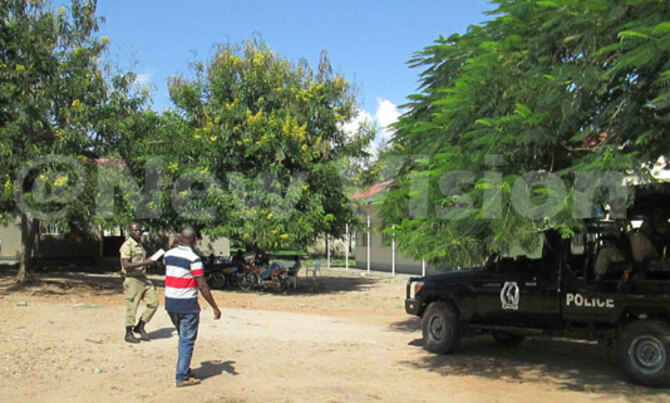 The Police deployed in the district to stem alleged planned violence to mark the first anniversary of the Rwenzururu clashes that left scores dead.
One person was shot dead and five district officials arrested yesterday as Police intensified security in Kasese district.

The Police is in the district to stem alleged planned violence to mark the first anniversary - November 26 and 27, 2016 - of the Kasese clashes between Rwenzururu royal guards and security forces in Kasese that left scores dead.
The violence culminated in the arrest of the Rwenzururu King, Charles Wesley Mumbere; his acting prime minister, Johnson Thembo Kitsumbire and about 160 loyalists.
The Rwenzori East Regional Police Commander Caesar Julius Tusingwire, confirmed the death of a suspect and the arrest of some district officials.

"'It is true our police officers on duty shot dead one Moris Mugisha as he tried to grab a gun from police officers," Tusingwire said. He said the deceased is a 34-year-old from Karusandara sub-county.
"But we are still investigating circumstances under which he was gunned down," the Tusingwire added.
He named the arrested district officials as Elly Maate Magwara, Godfrey Bwerere (district speaker), Catherine Muhindo (deputy speaker) and Wilson Mbathulhawo, a district councillor for Bwesumbu sub-county, among others.
The district leaders were allegedly mobilising people to go to Rwenzori square to mourn the people who died in last year's clashes, contrary to instruction earlier issued by the district security team.
According to Tusingwire, the heavy deployments on Sunday and Monday at Rwenzori square and other parts of the district were meant to secure the rest of the public since no serious incidents have been recorded in connection to the threat.
The clashes
Citing terrorism activities within the Rwenzururu establishment, security organs on November 26 last year raided the kingdom's administrative offices on Alexander Street and overran various alleged Rwenzururu camps ran by Rwenzururu royal guards.
On 27 November, the forces overran the Rwenzururu kingdom palace on Kijongo Road, arrested King Charles Wesley Mumbere and scores of his royalists, mostly royal guards before setting the entire palace ablaze.
Mumbere, his acting Prime Minister, Johnson Thembo Kitsumbire, who was arrested later, have, along with about 160 others suspects, been charged with various crimes including terrorism, murder, attempted murder and aggravated robbery in the Jinja Chief Magistrate's court.
Mumbere and Kitsumbire were later granted bail but Mumbere instructed not to visit Kasese, Bundibugyo and Wakiso districts in the meantime.