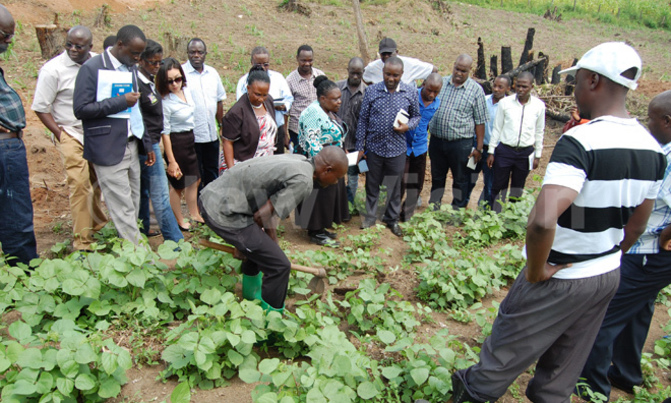 Kakwezi said that farmers have been neglected and left without knowledge of good garden management practices
World Bank officials and NARO officials during a field tour visit in Kyegegwa. Photos by Wilson Asiimwe
Farmers in Kabarole district have failed to adjust to changing patterns of weather and soil fertility due lack of better farming practices.

The farmers said this on Thursday during a sensitization training by the National Agriculture Research Organisation (NARO) at Kyembogo in Busoro Sub-county.
The farmers accused Kabarole local government of neglecting them by not sending extension service workers to advise them on how to grow and rear animals during drier seasons or outbreak of diseases.

Kakwezi Mwesige, the chairperson of the farmers' association said that agriculture has been termed as the engine of the economy, yet the sector gets negligible budget allocation.

"We are told that every sub-county has an extension worker but we don't know them we have never seen them we don't know where they are operating from," Kakwezi said.

Kakwezi said that farmers have been neglected and left without knowledge of good garden management practices such as crop spacing, winning and application of manure and fertilizers.

"The livestock farmers are also losing animals due to lack of knowledge to identify various diseases that attack the livestock early enough to prevent their death by calling a specialist to treat them and that is a very big challenge which needs to be addressed, "He added.

He said extension workers and veterinary have no budget for transport and they don't go to the field to assess farmers' gardens and train them.

Jacob Businge, a famer in Busoro said that recently he lost over 16 acres of maize due to harsh weather and asked the Government to consider the construction of small irrigation schemes to help the farmers with water during dry seasons.

"We have a lot of streams in the district, but farmers are losing a lot of crops due to bad weather the district local government has not prioritized the construction of small irrigation schemes,"Businge said.

Robert Kawamara, another farmer said that they receive planting materials from the Government when it is very late and it affects the production.

"Planting materials supplied under the operation wealth creation program should always be delivered on time because we are suffering a lot of losses as a result of receiving materials late when the rain season is almost over,"Kawamara said.

Joseph Oriokot an agricultural expert with World Bank which is funding the Agriculture Technology and Agribusiness Advisory services project urged the farmers to ensure value addition for their products.

"We need to increase the number of demonstration sites in every sub county for the farmers to learn good farming practices as one way of transforming the agricultural sector,"Oriokot said.

He said that the World Bank was funding NARO to improve research in the eight districts of the Rwenzori region.

The officials from the World Bank and NARO visited several farm demonstration sites in Kyegegwa, Kyenjojo and Kamwenge districts.