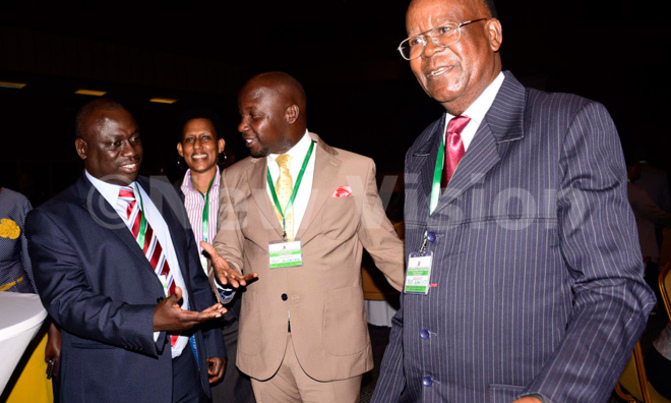 Kamuntu has said that many Ugandans view tourism as a sector for the rich and idle people
(From left) Alex Ruhunda, the chairperson of the parliamentary committee on trade, tourism and industry, Doreen Katusiime, the permanent secretary tourism ministry, Godfrey Kiwanda, the state minister for tourism and Ephraim Kamuntu chat after the closure of the sector performance review conference at Kampala Serena Hotel. Photo by Maria Wamala
Tourism in the minds of most Ugandans is perceived as pleasure, a sector for the rich and idle people, tourism minister Ephraim Kamuntu has said.
"And in fact when they want to belittle you they will tell you that this person has become a tourist attraction," Kamuntu said while highlighting challenges the tourism ministry is facing.

This was during the closure of the one-day annual tourism sector performance review held at Kampala Serena Hotel on Friday.

He said that when such mindset persists, then it leads to the second challenge for the ministry.

"That mind translates into how national priorities are set and how national budgets are allocated. If you commit to make this country a middle-income by 20120, then you have to correctly identify where the gross is going to come from," Kamuntu said.

"Unless the economy grows in double digits, and that is only possible if we increase our tourism gross, if we do not, I fear that we are going to hit 2020 when we are not a middle-income country because we have mismatched our priorities at budget allocation," Kamuntu said before maintaining another challenge to the sector.

Despite the above challenges, Kamuntu said the tourism ministry has achieved on the global scene. He mentioned that Ugandan has just been elected to the world heritage committee for the first time.
He added that globally in 2017, Uganda is ranked fifth top destination that one must visit and that Kidepo was named best national park.
He also said Uganda is also ranked as the most welcoming country and the most friendly in Africa.