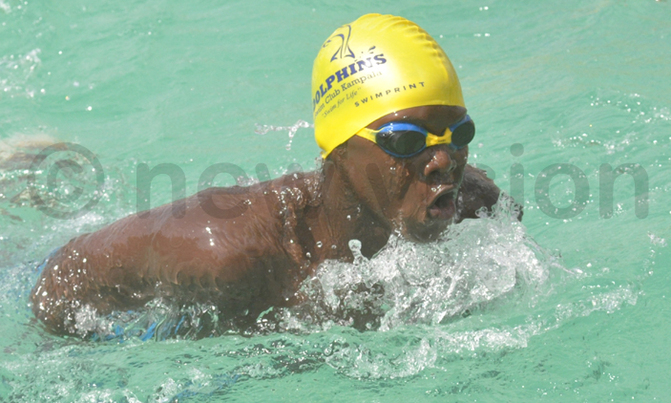 One of his memorable races is the 800m race at the recent CANA Zone 3 where he made a time of 9:44
Every athlete's dream is to compete at the highest level possible.
It is no different for 14-year old national swimmer Darren Ssamula who is targeting competing at the 2024 Olympics.
After finding his niche in swimming, Ssamula, a year-ten GEMS Cambridge International School student has already represented the country on the international stage, most recently at the CANA Zone 3 Championship in Tanzania where he grabbed 7 medals (4 gold & 3 bronze).
The long races are his specialty and it is where he won gold in the 200m breast, 200m Medley, 400 freestyle and 800m freestyle races, to help Uganda finish 4th out of 6 countries in Dar es Salaam.
In July, during the Seals Invitational Championships he produced one of the best performances when he clocked 19:04.75 in the men's 1500m freestyle race to beat Seals' Nuwa Senkebe and Darren Murray.
Born to Joseph Ssamula and Lilian Nakijoba, Ssamula hopes to acquire more scholarships through the sport as he pursues Architecture and Engineering along the way, though he doesn't rule out taking the sport as a profession.
"I started swimming when I was a bout 9-10 years. I was at Daffodils then and my Dad and I were looking for something to do; football did not work out but we used to go out swimming on Sundays until dad found the Dolphins Swim Club, that is where competitive swimming began for me around 2011," Ssamula recalls.
"I don't like sprint races. I prefer long ones because that's when my engine starts moving; I'm better at holding pace. I would like to improve my time and maybe compete at the Olympics one day," Ssamula, whose best stroke is freestyle, says.
One of his memorable races is the 800m race at the recent CANA Zone 3 where he made a time of 9:44 though he had targeted 9:45. But he has also won several medals since starting out, in several local events, and he sees a lot improvement as he is now neck and neck with most of his peers at the Dolphins Club who use to beat him.
His dad is his role model as; "he motivates me a lot and together with my mum they support me a lot and advise me and take me through all the rough times," Ssamula who eyes competing outside the country at better facilities stated.
"Dad nicknamed me the Submarine; I will always try to dive in like a submarine for as long as I can. Arnold Kisulo, the Swaleh Brothers (Nabil & Fadhil) in South Africa, and Joshua Ekirikubinza, have inspired many of us," Ssamula notes.
"Jolly Jordan my little brother, is also at GEMS and at Dolphins Swim Club and posting very good times. That too motivates me, setting the pace for him in terms of discipline, working hard to archive the desired goals is one of the best motivation I could ever have," Ssamula says.
He advises upcoming youngsters to work hard even though they could be lacking in talent and the talented ones to continuously work on improving.
His immediate target is to train well and be part of the team for next year's events especially the African Juniors championships.
The head of physical education GEMS Cambridge, Graham Tongate says Ssamula is a very keen and dedicated sports person and hopes he can compete and win a gold medal for Uganda at the Olympics while his coach Muzafar Muwanguzi says he has great potential having specialized in the long races which is the back bone of the sport.