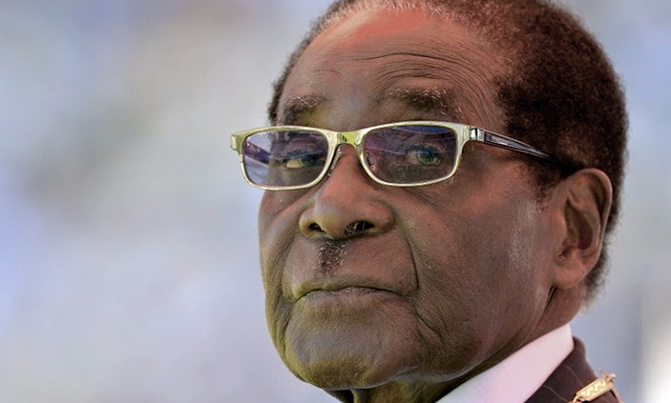 Mugabe also suffered humiliation on Tuesday when almost no government ministers heeded his call to attend a cabinet meeting at his State House residence.
Zimbabwe parliament opens session to begin Mugabe impeachment. The parliament is preparing to start impeachment proceedings against President Robert Mugabe Tuesday, as ousted vice president Emmerson Mnangagwa, who could be the country's next leader, told him to step down.

Further street protests have been called in Harare, raising fears that the political turmoil could spill over into violence.

Mugabe also suffered humiliation on Tuesday when almost no government ministers heeded his call to attend a cabinet meeting at his State House residence, official media reported.

The snub piled pressure on the embattled president after Emmerson Mnangagwa, the vice president whose removal by Mugabe sparked the military intervention last week, said he would consider returning to Zimbabwe if his safety was guaranteed.

Mnangagwa's intervention is his first public move since the army seized control.

It comes as lawmakers of Mugabe's once-loyal ZANU-PF party were scheduled to meet in parliament at 1215 GMT to trigger proceedings that could see the president stripped of office.

Dozens of protesters gathered near parliament, chanting for Mugabe to resign and brandishing Zimbabwean flags and banners emblazoned with "Mugabe go!".

A bubbling factional squabble over the presidential succession erupted two weeks ago when Mugabe fired Mnangagwa.

The dismissal put Mugabe's wife Grace in prime position to succeed her 93-year-old husband, prompting the military to step in to block her path to the presidency.

After Mnangagwa fled abroad, the army took over the country and placed Mugabe under house arrest -- provoking amazement and delight among many Zimbabweans as his autocratic 37-year reign appeared close to an end.

Mnangagwa, formerly one of Mugabe's closest allies and a regime hardliner, said in his statement that Zimbabweans had "clearly demonstrated without violence their insatiable desire" for Mugabe to resign.

"It is my appeal to President Mugabe that he should take heed of this clarion call," he said.

On Saturday, Zimbabweans attended huge, peaceful anti-Mugabe marches that would have been brutally repressed just weeks ago.

The influential war veterans' association appeared to pull back from an earlier call for immediate demonstrations at Mugabe's home, instead threatening further protest action if Mugabe clung on.

"Smell the coffee -- your time is gone," War Veterans' association chairman Chris Mutsvangwa said Tuesday.

"Intention and action must coincide now. If he doesn't go, we will be calling on the people of Zimbabwe to come out to show him to go."

On Monday evening, army chief Constantino Chiwenga told reporters that progress had been made in talks towards an apparent exit deal for the world's oldest head of state.

Chiwenga called for patience and calm after elated Zimbabweans were stunned to see the president declaring in a TV address on Sunday that he was still in power.

Mugabe is feted in parts of Africa as the continent's last surviving independence leader.

He was a key figure in the war for independence and took office as prime minister in 1980, riding a wave of goodwill.

His reputation was swiftly tarnished, however, by authoritarianism, rights abuses and economic policies.

Most Zimbabweans have known life only under his rule, which has been defined by violent suppression, economic collapse and international isolation.

Despite his fragile health, Mugabe had previously said he would stand in elections next year that could have kept him in power until he was nearly 100 years old.

Mugabe's wife Grace, 52, has not been seen since the takeover.

ZANU-PF lawmakers vowed to remove Mugabe after he missed their weekend deadline to resign. "We have the numbers, the opposition is also going to support us," Vongai Mupereri, a party MP, said.

Chris Vandome, an analyst at Chatham House, a London-based think-tank, warned of the rising risk of public unrest.

"The longer this goes on for, the more the likelihood of violence increases," Vandome told AFP.

Legal experts say impeachment could take weeks and be subject to court appeals.

Mugabe is thought to be battling to delay his exit in order to secure a deal that would guarantee protection for him and his family.

The army insists it has not carried out a coup, but rather an operation to arrest allegedly corrupt supporters around the Mugabe family.

"It might take days and weeks, but Mugabe is on his way out," said Charles Muramba, a 46-year-old bus driver in Harare.