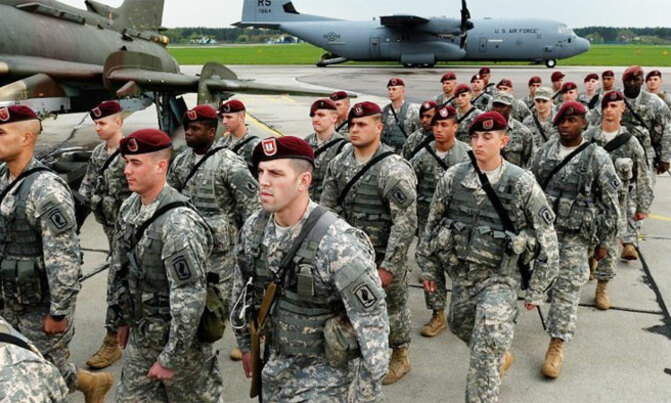 The surge in activity comes as the US watches for an influx of fighters from the Islamic State group, which has lost almost all its territory in Iraq and Syria.
The US military has quietly upped the tempo of its operations in Somalia, conducting a growing number of drone strikes against Al-Qaeda affiliated Shabaab militants and other jihadists.
Since the start of the year, America has carried out 28 drone strikes in the Horn of Africa nation, with 15 of these coming since September 1, the military's Africa Command (AFRICOM) said.
That's a big increase from last year. According to the London-based Bureau of Investigative Journalism, which maintains a tally of US operations in Somalia and elsewhere, there were 15 anti-Shabaab air strikes in the whole of 2016.
The surge in activity comes as the US watches for an influx of fighters from the Islamic State group, which has lost almost all its territory in Iraq and Syria.
The US conducted a pair of drone strikes against IS in Somalia on November 3, the first time it has hit the jihadists there.
Though the Pentagon has provided few details about the strikes, spokesman Colonel Rob Manning said this week that US forces had killed 40 Shabaab and IS fighters in a series of five strikes on Somalia between November 9 and 12.
On Wednesday, AFRICOM announced a sixth strike that killed "several" Shabaab militants 60 miles (97 kilometers) northwest of the capital, Mogadishu.
The surge in activity comes after President Donald Trump in March loosened constraints on the US military in Somalia, allowing commanders to take action against suspected terrorists when they judge it is needed, without seeking specific White House approval.
The US is supporting the country's fight against Shabaab, which has carried out a string of devastating bombings in Mogadishu and elsewhere.
In May, officials said only about 50 US troops were in Somalia providing training and advice for the Somali military and logistical support, but on Thursday the Pentagon said the figure is now at about 500.
Pentagon spokesman and Joint Staff Director Lieutenant General Kenneth McKenzie told reporters Thursday that he didn't necessarily think there was a ramping-up of operations, but said the "density of targets" meant more strikes had been possible.
"There's no particular rhythm to it, except that as (targets) become available and as we're able to process them and vet them, we strike," he said.
McKenzie added that officials keep a close eye on foreign fighters' movements from Iraq and Syria, but he would not say if the Pentagon was tracking jihadists flowing from their former "caliphate" through Yemen and onto Somalia.

AMISOM
Aside from US forces training and advising Somalia's young military, about 22,000 African Union troops are helping secure outlying urban areas.
AMISOM, the AU's mission in Somalia, has said it will withdraw 1,000 troops fighting jihadists in the country this year, as part of plans to pull out all soldiers by December 2020.
Washington is worried the reduction will hamper efforts against Shabaab.
Deputy Secretary of Defense Pat Shanahan met with Ugandan Minister of Defense Adolf Mwesige in Vancouver, Canada on the margins of a UN peacekeeping summit this week.
Uganda is the main contributor to AMISOM and has been there for a decade.
Shanahan "acknowledged those Ugandan lives lost in Somalia. He expressed his understanding of the frustration with the pace of progress in Somalia but also his confidence that progress is being made," Shanahan's spokeswoman Commander Sarah Higgins said.
For Jennifer Cooke, an Africa specialist at the Center for Strategic and International Studies, this "militarization" of US policy in Somalia is concerning.
"The raining down of strikes from the sky can give major fuel to recruitment by (jihadist) groups," she told AFP.
Cooke worried that increasing military intervention is not being matched by diplomatic efforts in Somalia as the US State Department's budget is cut.
"You don't have the counter-balance of a diplomatic strategy to go with that expanding military footprint," she said, also adding that rising civilian casualties were a real risk.