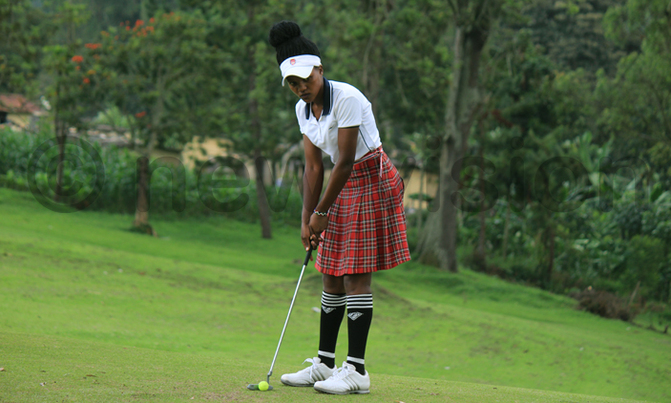 She started with a bogey and there were a further six in her round but she still managed to show her finesse
Mackline Nsenga emerged the champion in the Nyakasura Golf Tournament which was played at Tooro Golf Club in Fort Portal Municipality.
Nsenga who entered the tournament as favourite, was one of the several golfers across the Western Region who participated in the one day event.
The 23-year-old, a regularat Tooro Golf Club, edged Lucia Alinda by three strokes to lift only her second title of 2017.
"I am happy to win this title. It was a little difficult towards the end but the most important thing was to finish top," said Nsenga, who finished with an aggregate of 7 under par 211 after four rounds, the best finish in the tournament.
From the start she led the elite group of professional golfers in the tournament, including Alinda, Denis Asaba and Steven Kasaija.
"I want to inspire more young ladies to take on golf because many people look at golf as a game for rich and old people which is not true," Nsenga said.
Recently Nsenga won the Kinyara Open group B and she was the runner up net winner in the just concluded Mbarara Ladies Open.
"My dream is to join the national team and also get sponsors because I work hard and I'm determined and besides golf I'm also a trainer of netball," Nsenga said.
She started with a bogey and there were a further six in her round but she still managed to show her finesse with three birdies on the front nine at holes no. 5, 6 and 8.
"I only made up my mind to participate in the tournament on Friday, but I have managed to put up a good performance but I'm happy that I have emerged the victor" she added.
Andrew Biryabarema the captain of Tooro Golf Club said that the tournament was organized by the old students of Nyakasura School in Fort Portal to raise funds for the renovation of the buildings at the school.
Biryabarema said that as a club they are proud of Nsenga's performance and she is now emerging one of the best golfers in the region.
"Tooro Golf Club has produced many members on the national team and Nsenga is one of the most determined young players who can make it to the national team," Biryabarema said.