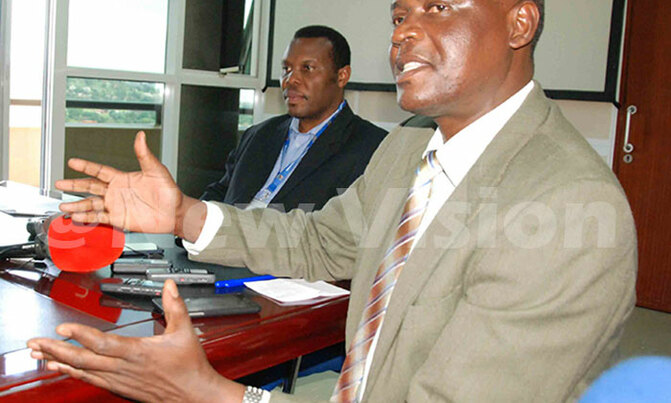 Emphasis will be put on variables with enduring characteristics, like land tenure, water, seeds, soil and arable land.
PIC: The director of agriculture and environment statistics, Patrick Okello, addressing the media as UBOS communications manager Godfrey Nabongo look on. (Credit: Abby Ramathan)

CENSUS l AGRICULTURE

The Government has announced plans to carry out a National Agricultural census, which is expected to be conducted between 2019 and 2020.

The last Agricultural census was conducted in 2008 and 2009. This will be Fourth agricultural census and will be carried out by the Uganda National Bureau of Statistics (UBOS).

Speaking to the Media at Statistics House on Friday, the head of communication at UBOS, Godfrey Nabongo, said there is need to update data on the agricultural sector which is now getting outdated.

"Agricultural Statistics are used by the government, businesses and local agencies for planning rural development, extension work and agricultural research. The data we have is getting old," Nabongo said.

Uganda first conducted a census of Agriculture in 1963/65 with the assistance of the Food Agriculture Organisation (FAO).

Like the Housing and Population Census, the agriculture census takes a period of 10 years before another one is conducted.


Patrick Okello, the director agriculture and environment statistics at UBOS, said they need updated information if the government is to properly plan for the sector in the next 10 years.

"Uganda is in its advanced stages of doing an agriculture census. The global strategy is to improve agriculture statistics and, as country, we shall collect core information that can be used by everyone," Okello said.

The 2019 census will be on crops, livestock and aquaculture.

During the census, emphasis will be put on variables with enduring characteristics, like land tenure, water, seeds, soil and arable land.

"We need to know the gender involvement in agriculture; we need to know which areas have more food than the other and people's perception on soil, and seeds. This will help policy makers to make informed decisions," Okello said.

No money has been allocated for the census, but Okello revealed that everything is in the pipeline.