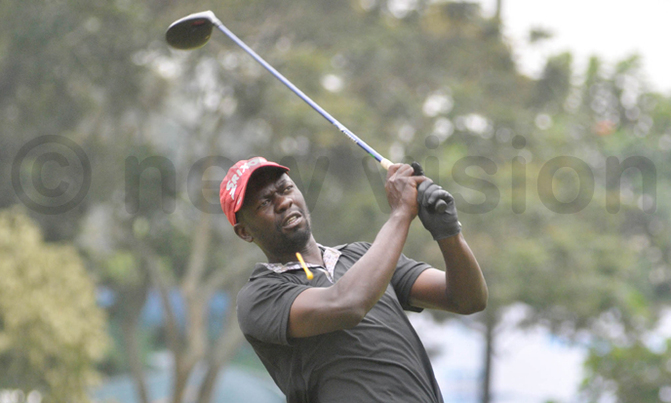 Only four strokes separate the leader and the tenth placed for going into the last 18-holes round
Uganda Golf Club's in form player Phillip Kasozi took a two stroke lead after carding 70 in the pros category as the Kakira Open teed off at Jinja Club on Thursday.
He is ahead of Jinja club players Opio Onito and Saidi Mawa as well as Kampala's experience old gun Herman Mutaawe in what is the tightest contest ever in the competition.
Only four strokes separate the leader and the tenth placed for going into the last 18-holes round.
The only lady professional Flavia Namakula carded 75 and could make her first cut if she improves in the last round. Action continues on Friday with both the pros and the gross players battling it out in the last 18 holes. Over 21 pros teed off on Thursday alongside 24 gross players.
In the amateur category, former Jinja club players Baker Mwanja and Arshraf Bagalana both carded 72 gross to take a one stroke lead after 18 holes after day one of the tenth edition of the tournament at the 9-hole course.
Despite Mwanja going out of bounds on hole number 6 and consequently registering a double bogey, the Kampala based shot game specialist had birdies on holes number 5,9,12 and 17 to take a slender lead ahead of his closest challenger Bagalana, on a count back.
"The course was playable and in a good condition today as it favoured my putting so well and if I do score the same in the last round, no one will stop me from taking this title especially since I have since longed to win at my former territory where I left four years ago," warned Mwanja .
His closest challenger Bagalana however said he will play an easy game without any pressure.
The two will face off in a fierce battle today alongside formidable contestants; Jinja Club's David Samanya, Ronald Mabonga and two time champion Grace Kasango who is three shots behind the leader.
Last year's champion Abraham Ainamani who had vowed to win it again is 7 strokes further.
Meanwhile Jinja Golf Club chairman Gordon Ireland revealed that over 120 golfers (men and women) will feature in the subsidiary event on Saturday.
Jinja's Faizal Mulindwa (handicap 14) will lead the Jinja team in the men's Group B.
"Despite the fact that I have played only in the Tororo and Mbale opens, I hope to make amends to win my group" warned Mulindwa who will be up against Phillip Muzaale, Robert Tenywa and Bosco Onek among others.
Just after spending two weeks as a 7 handicaper, Jinja based Martha Babirye will be hoping for a new challenge against ladies Group A top guns like Gloria Mbaguta, Meron Kyomugisha, Ketra Nalwoga and Jinja Club mate Catherine Buettner .
The men will feature the likes of Phillip Muzaale, Farouk Kato, Jerome Ssengooba, Tim Glover among others.
Kakira Sugar Limited has injected over shs54m into this year's tournament.
Top 10 pros
Phillip Kasozi 70
Opio Onito 72
Saidi Mawa 72
Herman Mutaawe 72
Silver Opio 72
Deo Akope 73
Ronald Bukenya 73
Ronald Oluba 73
Brian Toolit 73
Brian Mwesigwa 74
Top amateurs
Baker Mwanja 72
Arshraf Bagalana 72
David Samanya 73
Ronald Mabonga 75
Grace Kasango 75
Ronald Otim 75
Dubissan Kato 77
Godfrey Nsubuga 77
Deco Mutebi 78
Sande Lulet 78
Ismael Mahmood 79