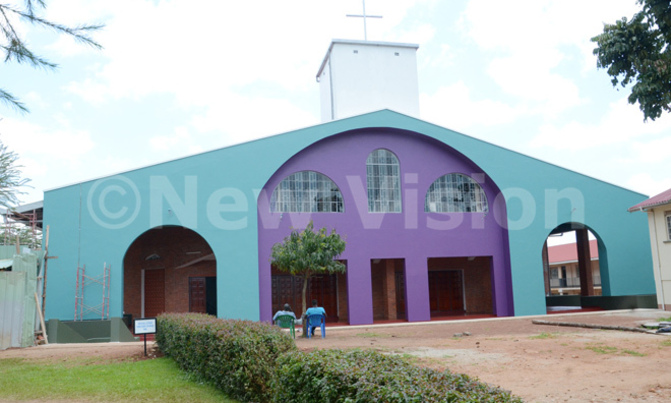 The new chapel will have a seating capacity of 1,500 worshipers compared to the old one which sat only 200 people
The exterior of the new chapel
A high tea event has been organised at All Saints Cathedral, Nakasero to raise funds necessary for the completion of chapel at Kyebambe Girls School.

Apart from high tea which is taking place tomorrow at 4:00pm, there will be a fundraising dinner on November 25, followed by commissioning of the chapel on November 26, at the school in Fort Portal, Kabarole district.
The new chapel will have a seating capacity of 1,500 worshipers compared to the old one which sat only 200 people.

According to Barbara Kaija, the Editor-In-Chief, Vision Group who is also an Old Girl of the school and co-ordinator of the Kampala fundraising team, the high tea event is one of the activities that have been organised to raise the remaining amount of money (sh500m) for the completion of the chapel.

The required funds are for procuring furniture, public address system and finalising the ceiling.

Kaija also said there will be pews, each pew is estimated at 1,000,000/=.


The old chapel
She encouraged the Old Girls and their families to sponsor a pew or pews, adding
that the sponsored pew(s) will be marked with the sponsoring family's name.

"Friends, families, 'Abisiki' (OGs), let us all dress up and gather at All Saints for this noble cause. It will be a fun-filled event, let us raise money to complete the beautiful house of God," Kaija said

The headteacher of the school, Night Mpairwe said the chapel is nearing completion, adding that out of the total cost of the project which is sh2.5bn, there is a deficit of sh500m.
"Most of the sh2.5bn chapel is complete and is a beautiful house of worship that glorifies God. However, we have a deficit of sh500m and we are looking for finances to cover the remaining items," she said

"Old Girls, their spouses and children, current parents of the school and all well-wishers are invited to stand with us. A seed in the House of God will never fall to the ground in vain," she added

Karungi said to fundraise; one can buy the tea cards at only sh50,000, but she also encouraged people to give far above that.
Located in Fort Portal, Kabarole district in Western Uganda, Kyebambe Girls is one of the oldest secondary schools in the country having been founded in 1910 under the Church of Uganda.
Some of the prominent women that went through the school include Princess Elizabeth Bagaya (Toro Kingdom), Victoria Rusoke (Kabarole Woman MP), Justice Judith Mbabazi (Judge Court of Higher Instance-Kigali)

Others are Doreen Silver Katusiime, (undersecretary Ministry of Education), Edith Nsaba Buturo (undersecretary Ministry of Defence).