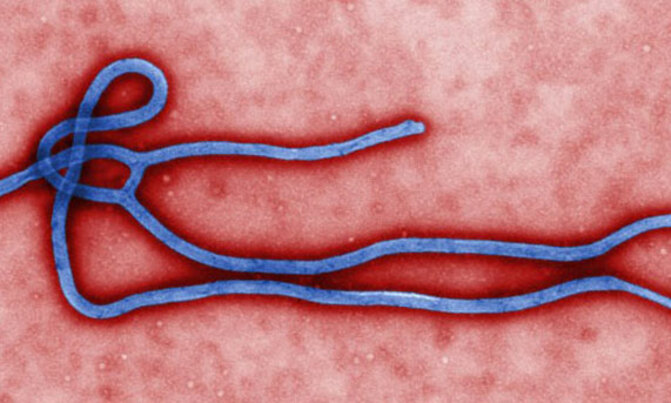 Researchers investigated vegetation-cover changes near 27 populated areas where Ebola outbreaks occurred.
ENVIRONMENT | EBOLA

A new study has identified a time lag of two years between forest loss and the emergence of the Ebola virus disease along the belt of the West and Central African rainforest.

The study was published in the international journal Scientific Reports, led by scientists from the Center for International Forestry Research (CIFOR), the University of Malaga in Spain and other institutions. This provides indicators that could be useful for predicting where and when Ebola outbreaks are more likely to occur, according to a report sent to New Vision by CFIOR.

The report also pointed out that tracking tree loss and forest fragmentation would allow identifying and targeting high-risk locations, according to this study.

"The important thing in our research is that we are moving towards developing an early-warning system," explained Professor John E. Fa, a Senior Associate at CIFOR and a Professor of Human Development and Biodiversity at Manchester Metropolitan University in the United Kingdom. "This research is fundamental for us being able to pinpoint the areas where Ebola outbreaks might occur in the future.

The study independently supports recent research that indicated an association between Ebola outbreak locations and deforestation patterns. What is new is the conclusive evidence about the timing of outbreaks, within two years after forest loss, according to the report.
PIC: Destroying forests releases creatures of the wild, such as bats, into society thereby spreading disease

This new research also suggests that preventing the loss of forests could reduce the likelihood of future outbreaks. "We have accumulated knowledge that removing forests causes problems not just to the functioning of the climate and ecosystems but also to humans, then we must see it as a threat to human livelihoods, health, security and everything else," said Fa.

Researchers investigated vegetation-cover changes near 27 populated areas where Ebola outbreaks occurred, compared to 280 areas of similar characteristics where there were no outbreaks.

The research team used satellite imagery and other remote sensing techniques to analyze changes in forest density, tree height and canopy cover. Scientists applied several forest loss models, considering diverse patterns of forest fragmentation and tree loss. The study found that the loss of dense forests, principally those with more than 83% canopy cover, was an important factor in the emergence of Ebola outbreaks, according to CFIOR.

The Ebola virus is transmitted to people from wild animals and is highly contagious among humans. According to the World Health Organization, more than 11,000 people died of Ebola in Guinea, Liberia and Sierra Leone between 2014 and 2016.

CIFOR advances human well-being, equity and environmental integrity by conducting innovative research, developing partners' capacity, and actively engaging in dialogue with all stakeholders to inform policies and practices that affect forests and people.
PIC: Medics spray a corpse in Liberia during an Ebola outbreak. The disease has no known cure

In a separate interview, Dr. Julius Lutwama, a Virologist at the Uganda Virus Institute said forest areas provide cover to plenty of wildlife that could be a cover to some of viruses that cause Ebola and Marburg. He said the rampant deforestation parts of Western Uganda such as Bundibugyo, Kibale, northern parts of Lake Victoria and Mt. Elgon such as Mbale and Kapchorwa risk dispersing disease causing animals.

"If you destroy forests, the bats come out because they feed on fruits," he said, adding that left overs (partially eaten fruits) could be picked by children and pass on the viruses to humans.

The forests should not be protected for the sake conservation alone but also for health reasons, according to Lutwama. "People should keep the forests," he said.