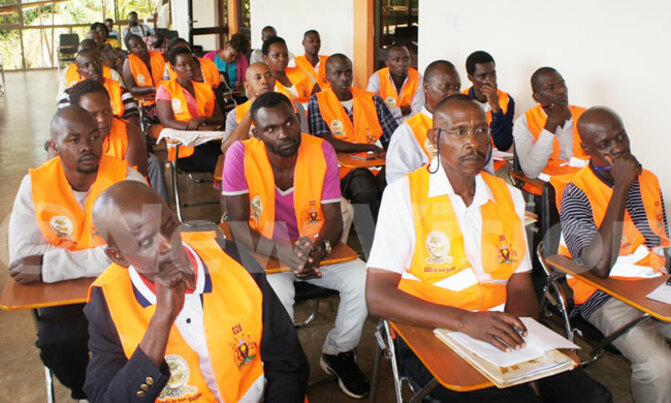 The team was cautioned against corruption and politicking.
ENTEBBE

Entebbe municipal council last week launched an enforcement team of 25 people, who will enforce the municipality's programmes.

Addressing the team during their launch, Entebbe municipal town clerk Charles Magumba told the enlisted personnel to maintain high standards of discipline while executing their work.

"We do not expect you to connive with culprits because then you will be defeating your own cause. Irregularities must all be reported to us. No one is allowed to carry out their own enforcement," Magumba cautioned.
The Entebbe Municipality mayor, Vincent Kayanja, advised the enforcement team against collecting taxes and politicising their work.
PIC: Entebbe town clerk Charles Magumba (centre) briefing the recruits as Mayor Kayanja (right) and deputy town clerk Lutaya (left) look on

"Enforcement work has got a lot of money temptations, but you must be strong enough to resist such temptations, as well as put politics aside because you are now regarded as public servants," added mayor Kayanja.
The same concerns were repeated by the area District Internal Security Officer (DISO), Erias Nimusinga. He said a file containing photos and information of every member of the enforcement team, shall be opened up so as to monitor their conduct.
The team went through further orientation by different sector heads at the municipal council on addition to physical training before being passed out by the Entebbe district Police commander Samuel Mission.

According to the deputy town clerk, Dan Lutaya, every member of the enforcement team will be entitled to lunch, plus an allowance sh15,000 everyday worked.