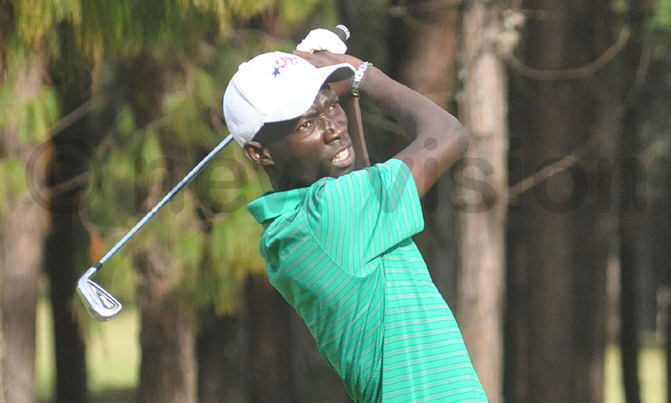 He is now headed to the Tanzania Open next weekend
As he collected his Entebbe Open championship prizes, Ronald Rugumayo wore a jumper with "Keep Calm I'm a Ninja" words inscribed in-front of it.
And he seems to be turning into one "Ninja" in the game of golf in the country and recapping one of his best years in golf after he won the Castle Lite Entebbe Open on Saturday.
The 25 year old, Toro Club golfer and national team vice-captain returned 150 gross over 36 holes to once again emerge the best at the Castle Lite Entebbe Open.
He is now headed to the Tanzania Open, next weekend where he hopes to challenge the likes of Tanzania national team captain Victor Joseph, Seif Mcharo and Saidi Amani.
But despite coming top of the two-day event at Entebbe Club, Rugumayo who is eyeing turning pro, having won the Uganda Open and most recently the Kinyara Open was not happy with his score.
"Yes I have won, but such scores cannot take me anywhere on the big stage where I want to go, so I'm not happy. Any other player would be excited to win this tournament with such a score but for me that showed a lack of consistence," Rugumayo who shot a closing round nine-over-par 80 noted.
"I missed all the fairways in the second round because I wanted to attack and even do better, but I ended up in the trees throughout; and when things did not work, I stuck to the same strategy," Rugumayo who scored 15 pars, 2 birdies and a bogey on hole no. 17 on day one, said.
He wrapped up the win with 3 birdies on the second day on holes 13, 15 and 18.
Palm Valley's Abraham Ainamani who was second best for the second year running, and was 2 strokes off blamed it on luck.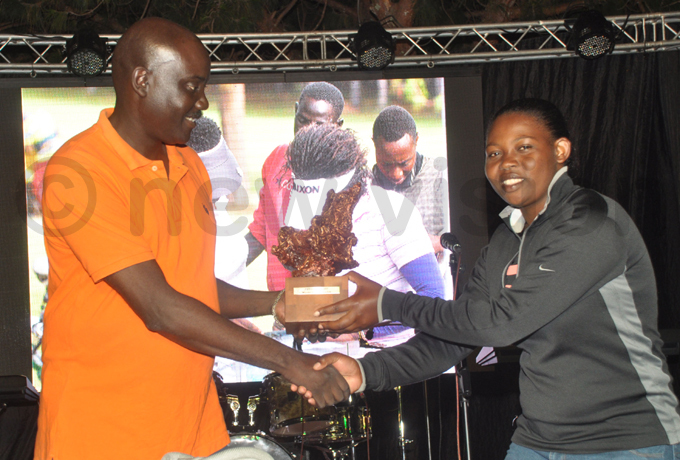 Entebbe Club chairman Twinemanzi Tumubweinee (L) present prizes to Group A winner Meron Kyomugisha. Photo by Michael Nsubuga
"I think I'm just unlucky. Last year I lost by one stroke, this year by two. My putting let me down as I was one over by hole-No. 11 but then I started three-putting," Ainamani said.
In the professionals' category, Entebbe golfer Vincent Byamukama took the biggest share of sh10m after finishing level overall, over 36 holes.
Other Entebbe products Deo Akope and Peter Sendaula finished second and third respectively, two and four strokes behind the winner Britam Insurance sponsored Byamukama who has maintained his tradition of winning at least a tournament in Entebbe every other year.
Castle Lite brand manager Julian Ssentamu presided over the prize ceremony where she also unveiled the new Castle Lite 375ml bottle.
Overall winners
Gross: Ronald Rugumayo 150
Nett-Men: Lin Hung Jung 68
Ladies: Tian Qui Xiang 70
Seniors: Patrick Magala 75
Group A
Isaac Mariera 72c/b
Yunus Bbaale 72
Paul Baite 73
Group B
James Eyul 70nett
Geoffrey Orach 71
Stanley Muhwezi 72
Group C
Charles Kabunga 72c/b
Zhang Jian Peng 72c/b
Wu Wei Ling 72
Ladies Group A
Meron Kyomugisha 74nett
Irene Nakalembe 75
Group B
Grace Njeri 73
Hannah Kwon 74
Gross top five
Ronald Rugumayo 70 80 150
Abraham Ainamani 76 76 152
Davis Kato 76 79 153
Ismail Muhamood 78 77 155
Becca Mwanja 76 79 155
Pros top five
Vincent Byamukama 69 73 142
Deo Akope 69 75 144
Peter Sendaula 72 74 146
Phillip Kasozi 76 71 147
Brian Toolit 73 75 148