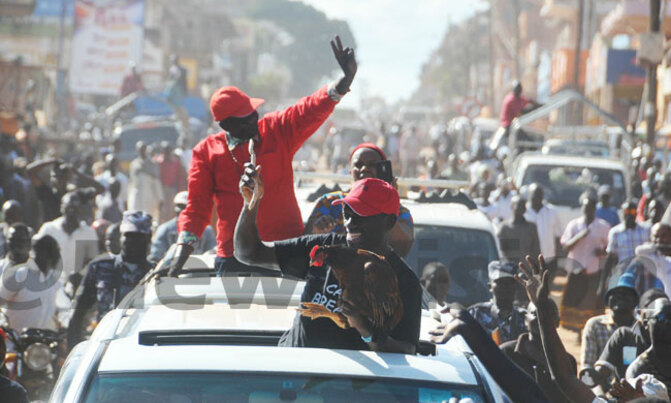 Besigye told Jinja residents to join him in the fight to return power to the people.
AGE LIMIT | BESIGYE IN JINJA

Business yesterday came to a standstill in Jinja town as former Forum for Democratic (FDC) presidential candidate Dr. Kizza Besigye drove through the streets atop his vehicle, waving to residents.
Besigye was heading to address a rally at Kazimingi Grounds in Jinja Municipality to sensitise residents about the Age Limit and Land Amendment Bills.
He was welcomed by his supporters at Ambercourt, who led him through Jinja town to the venue. Besigye's convoy passed along Nalufenya road, Mainstreet, Nizam East, Kutch road East, Clive Road East before reaching the venue.
The Opposition strongman, as expected, met Anti-riot Policemen in full gear behind Jinja Central market, the road blocked.
Abubaker Kirunda, the Jinja district FDC chairperson, confronted one of the officers who made several calls to his bosses and the policemen later withdrew and let Besigye through.
Besigye was accompanied by candidates vying for the FDC presidency; Kawempe South MP Mubarak Munyagwa and Patrick Amuriat. Others present were Ingrid Turinawe and Kampala Lord Mayor, Erias Lukwago.
Besigye told residents to be united in their fight against land grabbers in Jinja town.
He said he came to Jinja to resume his campaign aimed at land rights awareness dubbed My Land, My Life.
He said the campaign is meant to mobilise Ugandans to resist all forms of land grabbing.
PIC: Abubaker Kirunda, the Jinja district FDC chairperson, confrontS one of the officers after Besigye's convoy was blocked

The former presidential candidate says many people have lost their land due to ignorance and lack of money to challenge the regime and its agents in court.
He told Jinja residents to join him in the fight to bring back power to the people.
Besigye also rallied his supporters against the removal of Article 102 (b) of the Constitution of Uganda that caps the presidential age limit at 75 years of age.
The rally ended at 6:30pm and Besigye, together with his convoy, drove towards Kirinya Road, where they met anti-riot Police.

The police blocked the convoy that was being followed by hundreds of supporters. When Besigye's team resisted, the Police responded with teargas to disperse supporters.