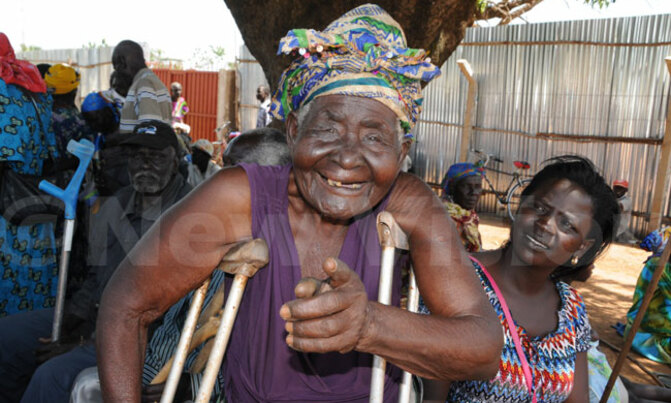 The programme benefitted 100 oldest persons from each division in the Municipality.
SAGE GRANT | GULU

There were moments of joy and grief at Kaunda Grounds in Gulu Municipality, when the oldest citizens from each division lined up, some with support of crutches, to receive their monthly pay cash from the Social Assistance Grants for Empowerment (SAGE) Scheme.
Some beneficiaries, majority of who were accompanied by relatives, smiled all the way back home after receiving as much as sh450,000. Others who had misplaced their pay cards shed tears after they were told to wait or go back and look for them.
The programme benefitted 100 oldest persons from each division in the Municipality and each one qualified for shs25,000 cash pay per month. Those who missed their previous pay in other parts of the district were also encouraged to come.
According to Brian Ford Komakech, the Gulu district Senior Community Development Officer, some of the beneficiaries received as much as sh450,000 because they had missed their pay for the months of May, June, July, August and September.
PIC: An elderly woman receives money from Post Bank at the Kaunda Grounds in Gulu Municipality



He said many of them miss their monthly payments because they are hospitalised due to the many illnesses they are prone to suffer at their age or when away in the care of relatives.
"The money is left in their accounts until they pick it," Komakech explained.
He said no one qualifies for the cash unless they have a National Identity Card.
The National Identification and Registration Authority office, according to Komakech, sends a list to the Expanding Social Protection Programme, which forwards it to the district to trace and mobilise the select beneficiaries.
"In case one dies, we grant an allowance of three months pay to the family before the name is deleted. The money is picked by the closest relative or anyone the deceased might have authorised," he explained.
The beneficiaries are paid on site by Post Bank.