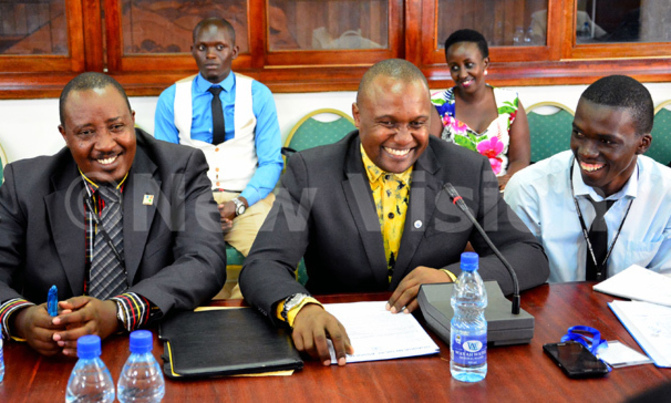 The doctors said they need more time to research on whether people aged 75 and above experience mental retardation
Members of the Uganda Medical Association led by the chairperson Dr Ekwaro Obuku (centre) appear before the committee on legal and parliamentary affairs. Photo by Miriam Namutebi
Medical doctors under their body the Uganda Medical Association have asked the parliamentary committee on legal and parliamentary affairs to allow them more time to research on whether people aged 75 and above experience mental retardation.
"We need to be given the terms of reference so that we can define what we are supposed to present before this committee, the invitation letter we got was generally broad," Ekwaro Obuku, the president Uganda Medical Association told the MPs.
The medical doctors led by Dr Obuku, today appeared before the committee currently scrutinising the Constitution Amendment Bill 2017, that seeks to lift the presidential age limit, capped at 75 years, to explain to the MPs whether there is scientific proof that people aged 75 years and above can face mental challenges.
The committee chaired by Budama west MP Jacob Oboth Oboth, was expecting the doctors to appear with a written submission as is the norm for all witnesses that appear before the committee, but were forced to adjourn the meeting prematurely when Dr Obuku told the MPs that they had not prepared any presentation.
"We need you to share with us your scientific expertise on whether people aged 75 and above or those below 35 years, cannot be entrusted with leadership and related responsibilities," Oboth said.
The committee which is currently having public hearings on the proposed Constitution Amendment Bill has given the doctors up to two weeks, to reappear before the committee and share their expertise on the effect of advanced age for leaders.