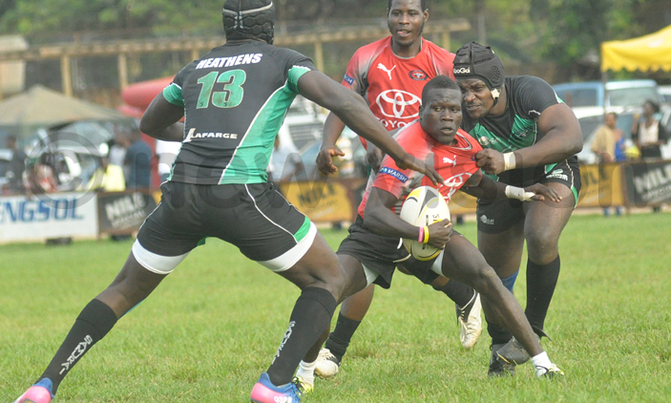 Pirates were also beneficiaries of a penalty try in the second half that ensured they replicated last year's performance
Uganda Cup
Buzz Pirates 25 Betway Kobs 23
Hima Heathens 3 Buffaloes 0
It will be a repeat of last year's final when Buzz Pirates take on the Hima Cement Heathens in the Nile Special Uganda Cup final next Saturday after knocking out the Betway Kobs 25-23 in the semi-finals played at Kyadondo on Saturday.
Pirates Musa Muwonge and Isaac Rujumba scored a try each for the Pirates, with Conrad Wanyama and Ivan Magomu adding a penalty each, in the heated semi-final that had four pairs of players from either side sinbinned at different intervals of the match.
The Pirates were also beneficiaries of a penalty try in the second half that ensured they replicated last year's performance that saw them eliminate the Kobs at this stage, 27-22.
Alhaji Manano, Justin Komono and James Ijongat had given the Kobs a perfect start with a try each and 10 points from the boot respectively to give them a 20-10 half time lead but the Pirates had other ideas in the second half with Rujumba's try and Ivan Magomu's late penalty sealing the victory to set up another mouth-watering final against the Heathens who beat Toyota Buffaloes 3-0 in a dull second semi-final.
Heathens who are rebuilding their side after several key figures left will now pray for a better outing next Saturday against a side they edged 20-17 in the final last year.
An early penalty from Chris Lubanga, was all eleven-time winners Heathens could manage in one the lowest scoring games they have been involved over the 18 years of this competition.
Pirates who last won the tournament in 2007, pressed hard for the win but found their opponents defensive line well prepared
"It was a hardly contested and competitive game but we didn't execute our game as we should have, so we are going to work hard in the week to rectify our mistakes," Heathens captain Michael Okorach said.
"Everyone has seen what we are capable of; we are now going back to the drawing board and may be replicating such performance in the league. We lost this match due to small mistakes and we missed so many 3 points," Pirates captain Charles Uhuru noted.