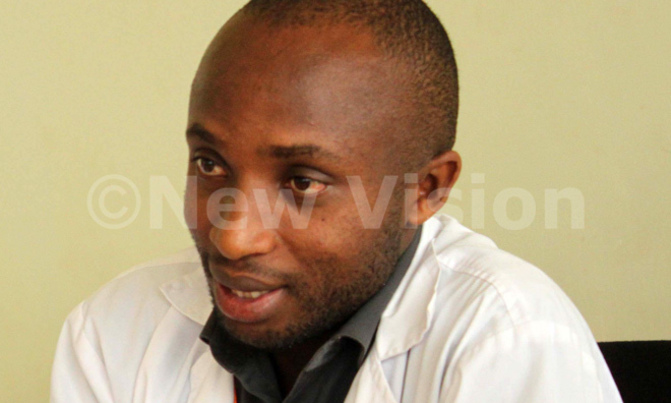 Mityana district has 32 PEPFAR supported staff whose contracts are due to expire in March, 2018
Dr. Fortunate Asiimwe, a PEPFAR supported health worker heading the ART clinic in Mityana Hospital
Mityana is one of the districts at risk of losing critical and well-trained health workers if the Government does not regularise The US President's Emergency Plan for AIDS Relief (PEPFAR) already trained supported staff.
The country has about 6,000 PEPFAR supported staff operating in eight districts which include Mityana, Kasese, Iganga, Mbarara, Busia, Kanungu and Kalangala.
Mityana district alone has 32 PEPFAR supported staff whose contracts are due to expire in March, 2018.
This has instilled panic in service providers in the district, saying if the Government does not renew their contracts upon expiry, they will have serious gaps in service delivery at the health facilities.

"We need more health workers in a number of our health facilitiesw especially in the blood screen department," said Fred Lwasampijja, the Mityana district health officer.

Lwasampijja says that Mityana Hospital got the PEPFAR supported health workers under Mildmay Uganda, but the challenge they are experiencing is that some of these health workers supported by PEPFAR do not fit in the government structure.

For example, the only laboratory technologist is not included in the government structure. The doctor who was seconded by Mildya Uganda does not fit in the government structure either.

However, Lwasampijja says that today, Mityana is one of the best is service delivery which is attributed to the cadres from PEPFAR who are highly qualified and are doing an excellent work.
He says that if the district or government cannot support these health workers there will be a big gap.

Uganda has a gap of over 25,000 health care workers!

Decrying the low absorption of PEPFAR funded health care workers, civil society organisations and service beneficiaries led by the International Community of Women living with HIV Eastern Africa (ICWEA) and USAID/PATH/Advocacy for Better Health (ABH), observed that Uganda currently has a human resource gap of over 25, 000 health care workers.

Gift Maridadi, business development officer, ICWEA, regrets that the government has not taken the initiative of absorbing these health workers in the main stream of ministry of health, adding that we are likely to lose the gains made in the fight against HIV.

PEPFAR partnership
PEPFAR through partnership with Uganda complement the Government's effort in addressing the Human Resources for Health (HRH) shortage as a key partner in the fight against HIV&AIDS in Uganda.
The support was aimed at scaling up HIV&AIDS prevention, care and treatment interventions in light of the rising HIV prevalence in the country.
PEPFAR through its Implementing Partners (IPs) in Uganda supported the recruitment of health workers, especially medical officers, pharmacists, dispensers, clinical officers, laboratory technologists, laboratory technicians, laboratory assistants, enrolled nurses, and enrolled midwives for Regional Referral Hospitals, General Hospitals, and HC III/IVs.

PEPFAR made an important understanding with the government of Uganda that when the contracts of these health workers expire, government of Uganda would take up these workers and absorb them into the main stream structure of Ministry of Health.

Some of the contracts of these health workers have expired and renewed but many other health workers' contracts have not been renewed.

"We are appealing to the health ministry, public service ministry, local government ministry and all those concerned to ensure that these critical group of cadres are taken on because we earnestly need their services yet we have a big gap of human resource," says Maridadi.