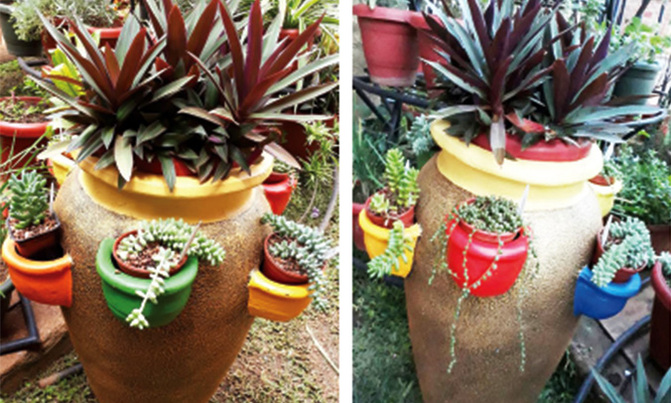 "Pocket pots work well for plants that get runners such as spider plants and straw berries," she notes.
One simple way of adding beauty to your yard is by using pocket pots.

According to Lillian Katiso, a backyard gardener with Maua and More, located in Kyanja, Kampala suburb, pocket pots are unique planters with small pots that allow you to have seven of your favourite plants in one place.

In other words, it is a pot or centerpiece with six small pieces around it.

They are great for creating focal points in outdoor spaces.

"Pocket pots work well for plants that get runners such as spider plants and straw berries," she notes. She adds that such plants can run from their mother plants to the pockets. Katiso says some people like pocket pots for cactus and succulents.

Also, for an extra touch of drama in a pot, you can choose plants of varying heights including grasses and those with beautiful foliage.

"Creepers that can spill over the edge of the pots charm up the compound gracefully," Leonard Muzahura, a landscaper, says.

However, ensure the pots have plants of the same water, soil and sun requirements for easy maintenance.

The pot is determined by the type of plants they hold and the decorative role they are intended to serve.

For example, shade-loving plants cannot be put in corners with the full sun.
Meanwhile, if you have small scented plants you are in love with, pocket pots will bring them to eye level where their fragrance can be better appreciated.

One can also grow spices, vegetables and herbs in the centrepiece besides small flowers such as succulents.

Benefits of pocket pots Katiso says such planters help to decorate homes.

For example, you can align pots in different corners of the compound to unify your landscaping.

Muzahura adds that pocket pots are cozy pieces that add colour to any boring outdoors.

"Give the pots complementing colours and place them along a walk way, porch among others," he says.

Besides, the pots will give your garden some height, shape and visual interest. The flourishing plants add a finishing touch to the backyard.

If you place your planter in a shaded corner, it may not need much watering, but whenever you water, ensure the water does not stagnate inside the pot for it can kill the plants.


Nevertheless, for beautiful colour blast, blend the flowers well aligning complementing blooms such as white and purple among others.


Muzahura says the pots allow the owner to appreciate their plants due to an elevated view.

"You do not need to get closer to feel your plants; the standing pot draws them closer to your eyes from a distance," he explains.