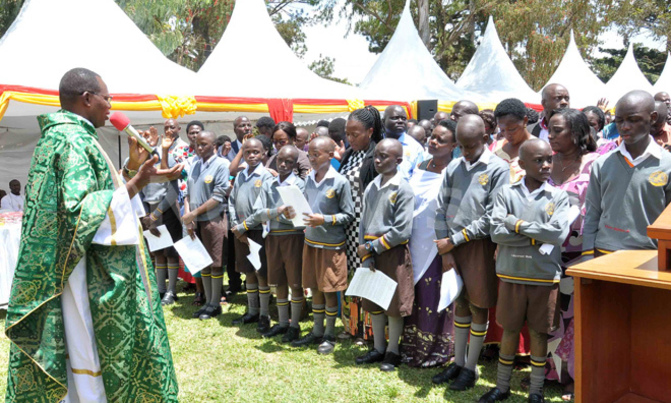 Fr. Luzindana said education must enhance the moral and spiritual formation of a student
Fr Luzindana conducts dedication prayers for P7 candidates of Mugwanya Preparatory School
The youth chaplain of the Catholic Archdiocese of Kampala, Fr Joseph Luzindana has asked teachers to give their pupils holistic education, which focuses on both academic and non-academic areas.

"Further to making the students pass their examinations, education must also enhance the moral and spiritual formation of the student. Education that is only examination-centred is undesirable.
"It is proper that the parents work harmoniously with the teachers to empower the pupils so that they become competent professionals with a high sense of moral responsibility," Luzindana said.

Fr. Luzindana was delivering his homily during the dedication mass for the P7 candidates of Mugwanya Preparatory School, Kabojja at the school in Wakiso district on Sunday.


The parents praying for their children
Luzindana later asked parents to teach their children the principles of work and self-reliance.

"Today many parents do not care to teach their children how to work. This is not proper. Parents have a God-given obligation to help their children to understand the importance of work.

"Giving children everything they ask for without helping them to understand the importance of work is a detrimental practise.
"Children must be helped to understand that duty precedes pleasure. This will help them to appreciate the principles of work," Luzindana said.

During the same function, Luzindana commissioned the school's new swimming pool. He also inaugurated the school's ambulance, which was donated by the school's alumni that are living in the US.

The headteacher of the school, Brother Godfrey Lutaaya asked the parents to always mind to bless their children. He asked the candidates to have total confidence and zeal as they prepare themselves for the exams.

Lutaaya commended the school's alumni in the US for the gift of the ambulance and asked the other alumni to emulate their generosity.