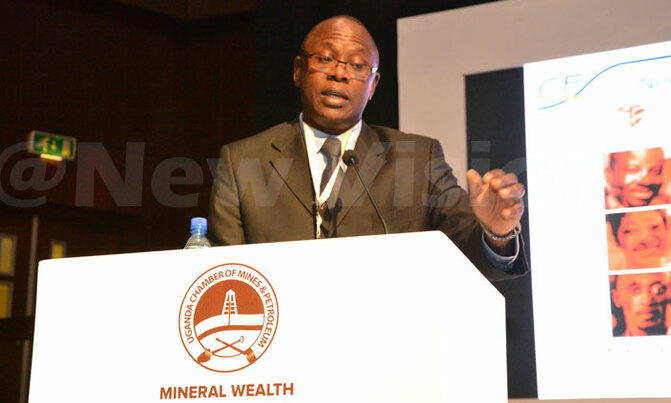 Communities living around Lake Katwe in Kasese district have been harvesting salt from the salt lake using rudimentary methods since the 15th Century, and have remained relatively poor.
PIC: Dr. Justus Masa (Credit: John Odyek)

VALUE ADDITION | SALT MINING

Dr Justus Masa, an award winning Ugandan researcher based at the Ruhr-University Bochum in Germany, has said salt deposits at Lake Katwe are being underused.

He says the salt can produce over 100 byproducts including plastic, paper, glass, polyester, rubber and fertilisers to household bleach, soaps, detergents and dyes.
Masa said he is ready to provide a baseline study for the salt deposits at the Lake Katwe in Kasese district.

The study is required to build a data base of information necessary to attract investors to add value to the salt.

Communities living around Lake Katwe in Kasese district have been harvesting salt from the salt lake using rudimentary methods since the 15th Century, and have remained relatively poor.
Salt is an abundant natural resource in the area and a major source of income for men, women and children who work in and around the lake perenially. Despite this large endowment of salt, Uganda still imports most of its salt for flavouring food.

The Uganda Development Corporation (UDC) estimates that the lake has reserves of over 22 million tons of crystalline salts. Presently, it yields only 15,000 tonnes annually because the salt mining is carried out rudimentarily instead of setting up a major plant.
Masa told the New Vision he had reached been promised funds by the government through the Uganda National Council for Science and Technology to carry out the study. The cost of the study is estimated at US$2m (sh7.2b) but the funds have not yet been released for the last two years.
Masa is currently the group leader for electro catalysis and energy conversion at faculty of chemistry and biochemistry at the university. He travels once a year to lecture at Kyambogo University. He said his interest to carry out the research was to promote development and use his skills to support his home country.
Masa explained that Uganda was losing 90% of the value of salt from Lake Katwe because it was mostly being used cheaply for table salt. The salt is also used to feed cows and goats.
"Edible salt represents at most 10% of the value of salt. Lake Katwe salt has over 100 properties that have high value use in global industries. These include chlorine, caustic soda, sulphur, neodymium used in super-magnets," Masa said.
He explained that salt byproducts, such as hydrogen, are useful as a fuel and in the manufacture of fertilisers and margarine, chlorine is useful for sterilising drinking water and for making plastics such as PVC. Sodium hydroxide or caustic soda is useful for making household cleaners and soap.
He recommended that there should be investment in youth to exploit the potential of Uganda's natural resources.

"Knowledge is very important. Japan and Israel have invested in knowledge. We need to liberate ourselves from being consumers to being producers. This needs coordinated effort, Masa appealed.
Masa proposed that Uganda's education system should start preparing the students for critical thinking. "In Uganda engineers are in working as planners. They are not critical thinkers therefore they are looking for employment. Through critical thinking you generate knowledge that is relevant for the environment and the country," Masa said.
He added that scholarships in post graduate studies should cover all sectors not only oil and gas as it is today, because they might over produce post graduates in one area and neglect other areas.
Finance minister Matia Kasaija promised that in the coming national budget the funds would be provided for the study. Kasaija observed that government welcomes investments and value addition.
Richard Kaijuka, chairman board of trustees Uganda Chamber of Mines and Petroleum urged the government to provide the funds. "We can get over 100 byproducts, commodities from Lake Katwe. All we need is money to do the feasibility studies to attract investors. We have a Uganda scientist who can do it. If we can add value to our minerals we can produce more revenue that we expect from oil and gas," Kaijuka said.
Masa earned a doctorate (PhD) with a distinction in natural sciences the from Ruhr-University Bochum in 2012 under the supervision of Prof. Dr. Wolfgang Schuhmann. He obtained a M.Sc. degree in Chemistry (2008) from Makerere University, and a B.Sc. degree, Industrial Chemistry major (2003), also from Makerere University.
He was a Visiting Scholar in the Physical and Theoretical Chemistry Laboratory at the University of Oxford in 2013 and worked in the Research Group of Prof. Richard G. Compton.

In January 2014, he returned to Ruhr-University Bochum as a Postdoctoral Researcher, and later rose to the position of a senior research scientist and Leader of the electro catalysis and energy conversion group in the Department of Analytical Chemistry and Center for Electrochemical Sciences (CES).
He is a co-inventor of four patents, one of which was sold to Bayer - materials division (Germany). Two of these patents were selected among the best inventions at Ruhr-Universities in 2010 and 2014.
His core research is in the field of electro catalysis and energy conversion, especially the rational design of advanced low-cost catalysts and electrode materials for electrochemical energy systems, from portable applications to grid-level energy storage, including fuel cells, electrolysers (power to gas energy conversion), rechargeable metal-air batteries and super capacitors.
He is a co-author of two book chapters and has at least 50 peer-reviewed scientific papers in international journals.