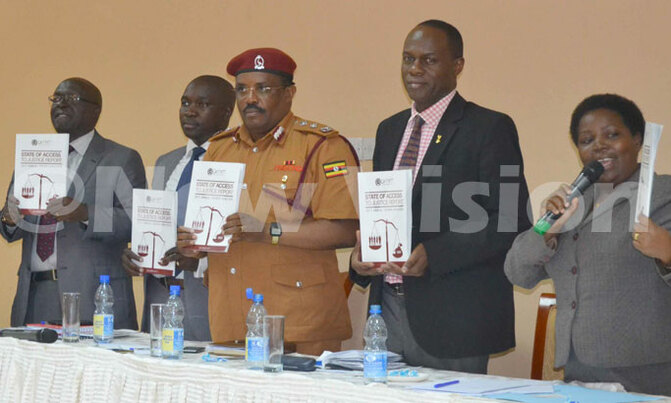 Uganda Prisons has more than 54,059 inmates. Over 52% of them are waiting for trial.
PIC: Commissioner of Prisons Robert Munanura joined by other panalists to launch the State of Acess to Justice report at Hotel Africana, In Kampala, on friday October 20. (Credit: Farooq Kasule)

The commissioner of prisons Robert Munanura has observed that slow judicial process and prosecution is responsible for the continued congestion of prisons in the country.
Munanura said until the criminal justice sector wakes up to its responsibilities, the prisons would continue to be hampered.
"Our prayer as prisons is always to have quick justice but it never happens. Majority capital offenders spend over five years on remand without trial after committal yet we continue receiving more inmates on a daily basis," he noted.
He observed that congestion has always been there because stakeholders in the justice sector, especially the office of the Director of Public Prosecution (DPP) and Police, have not lived up to their duties.
"Suspects, especially capital offenders, spend over five years on remand without trial after committal. I think the Judiciary should now think of a time frame for the trial of capital offenders after committal, so as to reduce on the prison congestion," Munanura said.
Munanura made the comments on Friday at Hotel Africana at the launch of the annual State of Acess to Justice report.
The survey was conducted by Laspnet, a legal service provider to primarily track how access to justice is faring in the country.
It revealed that 96% of the respondents had encountered problems, such as corruption and unreasonable delays while using justice institutions.
According to Munanura, they have over 54,059 inmates, but over 52% are waiting for trial. "Let the prisoners be heard first because some of them especially with appeals are heard after completion of their punishment," he said.
He also advised the Police to carry out investigations before arrests are made, especially in minor cases.
Munanura noted that mention of capital cases in Chief Magistrate's Courts should be reviewed, saying it is inefficient.
"After a suspect has been remanded, he should only be produced back in court after completion of investigations,"
City lawyer George Musisi said there is a need to review bail guidelines to include a mandatory period for which suspects should be automatically granted bail if it elapses without trial.
"Pre-trial detainee is one of the biggest human right abuses in the justice system," he said.
Presiding over the event, High Court deputy registrar Immaculate Busingye tasked the Justice Law and order sector (JLOS) to take up the recommendations in the survey to improve on acess to justice.
"As the judiciary, we have tried to come up with a number of innovations like court open days, plea-bargaining among others to improve on acess to justice but our number is still wanting," he said.
Senior commissioner of police, Henry Tukahirwa said they still have a challenge in conducting investigations although they are trying to have investigations done before arrest.
Musa Mudoi, the JLOS technical advisor human rights and accountability commended Laspnet for identifying key areas of improvement in acess to justice.
Laspnet secretary, Lydia Namuli said there is a need to strengthen sensitization and awareness programmes to ensure mass sensitization of the citizens on the laws and rights.
Sylvia Namubiru, the Laspnet executive director noted that although, government has made progressive steps by enacting laws that protect the right to access to justice, the legal and institutional framework has been impacted by a number of factors like corruption which have continued to undermine the right of citizens to access to justice.
Land matters formed the highest justice issues at 44%, criminal matters at 24% and Domestic violence at 17%.
69% of justice seekers were satisfied with Alternative Dispute Resolution because it's associated with less costs of litigation.
The survey reveals that 62% of the respondents were ignorant about the procedures required to seek a remedy.