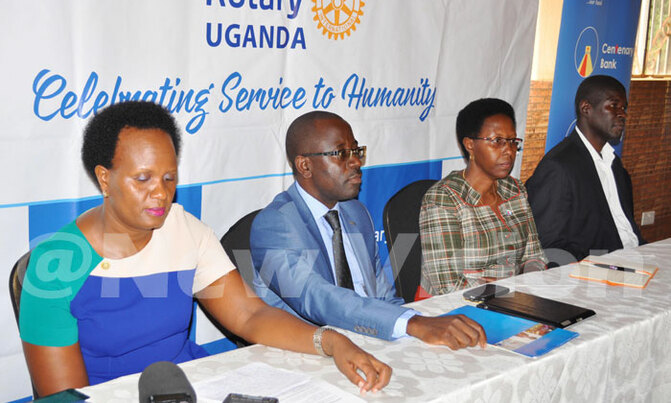 Among the services to be offered include breast, cervical and prostate cancer screenings.
(Credit: Shamim Saad)
ROTARY | FREE HEALTHCARE

Over 1,000 people in Kampala and surrounding areas will receive free health care during the Rotary family health day (RFHD).
Among the services to be offered include breast, cervical and prostate cancer screenings. Others are immunisation services, family planning, HIV/AIDs counseling and testing, Malaria testing and treatment, Safe male circumcision and health education.
Rotary Family Health Days offers free health services and vital screenings to deprived communities.
Speaking during a press conference at Hotel Africana, Dr Rosemary Byanyima, a board member RFHD, said at least two million people in different parts of the country have been treated through these activities.
The RFHD programme is also being implemented in six countries, including South Africa, India, Nigeria, Ghana and Tanzania.

"Since its inception in 2011, the programme has reached out to at least 500,000 Ugandans," Byanyima said.
The Tenth edition of RFHD, under the theme Good Health, Happy Families, organised by Rotary Club Kampala Central, is scheduled to take place at Old Kampala SS playground tomorrow.
The President of Rotary Club Kampala Central, Barbra Mbabazi, said during the medical camp street children will also be sensitised on the dangers of taking drugs. She said they are working Mengo youth development link to mobilise the street children.
Meanwhile, Centenary Bank has offered sh10m to support the day's activities. The Bank's general manager of finance, Godfrey Byekwaso, said: "We chose to support activities related to cancer in the RFHD as part of our corporate social responsibility," he said.
Cervical cancer is one of the leading killer disease in Uganda with about 3,915 new cases registered every year, according to the 2015 human papillomavirus (HPV) and related diseases report.
Byekwaso said this year, they have set aside over sh230m to bridging the cancer gap activities of which sh40m will go towards the purchase of cancer screening kits to be used during RFHD.