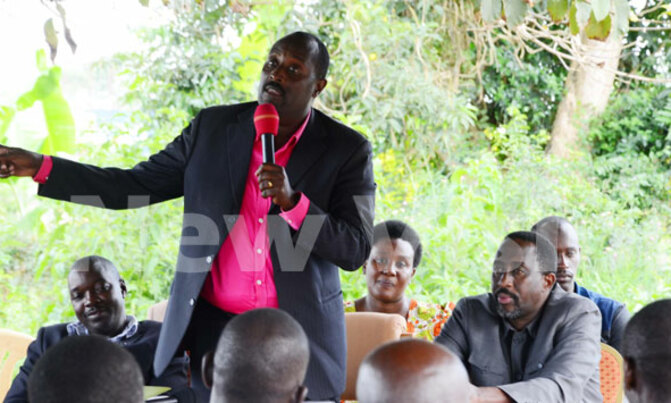 NFA says the cattle keepers were given causal grazing permits during the dry spells, but they instead turned the reserves into their permanent home.
PIC: NFA boss Michael Mugisa speaking to cattle keepers in Gomba district at Maddu sub-county headquarters. (Credit: Jeff Andrew Lule)

Cattle keepers grazing in Kalombi and Nsowe central forest reserves in Maddu sub-country, Gomba district are panicking, following an order from the National Forest Authority (NFA) to start evacuating their animals and families from the forests.
The cattle keepers are said to have entered the forests 15 years in search for grass, but have never left.
The NFA Executive Director, Michael Mugisa, noted that several balaalo, as they are commonly known, were given causal grazing permits during the dry spells, but they instead turned the reserves into their permanent home.
"They constructed semi-permanent houses and cleared land for cultivation. This has greatly degraded and they have lost their natural ecological functions," he added.
Kalombi and Nsowe forests are catchment areas for river Katonga, covering 3,836 and 5,097 hectares respectively.
At a consultation meeting with the cattle keepers, the district leadership and NFA, several cattle keepers admitted to have breached the casual grazing permits.
They requested NFA to give two them years to re-organize themselves and leave voluntarily after identifying where to relocate.
"We need time to sell off some of our animals to raise money to purchase land where we can re-locate. It is hard to get land in this short time," James Gumisiriza, the chairman of the Kalombi Forest Grazers Association, said.
The authority issued an ultimatum of two months up to November 30, 2017 in which they have to vacate the forests.
Gumisiriza said about 400 households and cattle keepers are likely to be affected by the move.
In his response, Mugisa (NFA) said there will be no extension.
"You must leave by November 30. I gave you more time contrary to the law. I am supposed to give you 30 days," he noted.
Mugisa said those who would not have left within the set time, will be forcefully evicted by Police and the Army.
The NFA Lake Shore Manager, Leo Twinomuhangi, explained that cattle keepers have to leave to allow the regeneration of the forest.
"We are already doing an assessment to see what type of trees can be planted in the forests for enrichment because they are woodland forests," he added.
The District Residential Commissioner, Fred Nayebare asked the cattle keepers to form a group and raise money to buy land.