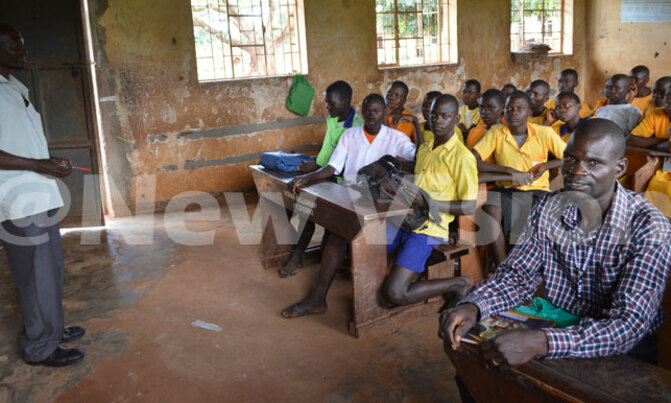 His mother, Rosemary Nantume, says Mutebi will have a good future now that he has gone back to school. She says her son had to drop out of school because his father was a drankard.
PIC: John Bosco Mutebi attends class with fellow Primary Seven candidates of Kyeeya Primary School in Namwendwa, Kamuli district. (Credit: Tom Gwebayanga)

EDUCATION | PLE

An LC1 Chairman and father of 14 in Kamuli district is among the candidates poised to sit for the Primary Leaving Examinations (PLE), slated for November.
John Bosco Mutebe, 44, the Chairman for Bwaguusa zone, is one of the 129 candidates undergoing vigorous revision at Kyeeya Primary school in Namwendwa sub-county.
The father of eleven girls and three boys, on Wednesday attended the Pre-PLE prayer service that was presided over by the Priest of Namwendwa Parish, Rev. Fredrick Wobeera.
Mutebe, also the Catechist at Ngandho sub-center in Buyende district, sent tongues wagging in February, when he stormed the headmaster's office to enroll as a P7 candidate, having dropped out in P6 in 1989.
The Headmaster, Sam Caleb Opio, said: "Being the area Chairman, we thought it was a usual visit. Then he dropped the bombshell that he had come to join P7."
Mutebe told New Vision during an interview that due to lack of the minimum academic qualifications, he had missed out on many opportunities in the Church and casual employments with NGOs, and also made some grave mistakes during the tenure of his leadership.
"I am a respected and intelligent man, that is why I hold a public office, but I have always felt bad that I did not get enough education," he said.

Mutebe said he also wants to get a certificate in agriculture studies because he loves to farm.
Leading by example
Mutebe says he wants to be an example to the young and old that everyone can take advantage of Universal Primary Education (UPE) and Universal Secondary Education (USE).
"People thought I could not go back to school after begetting children. Here I am and the struggle continues," he said.
Francis Balimisa Kapere, the P7 teacher praised Mutebe's conduct and commitment in class, saying, "Despite his age and status, he's a polite, listening and hardworking candidate, and also a regular attendant."
Asked about his PLE prediction, he said although he's not being one of the best candidates, he is poised to pass and join Senior One, come 2018.
"My scores shall be within the average aggregates to join secondary education, "he asserted.
Najat Naigaga, a classmate with Mutebe said," We admire him because despite having many responsibilities, his performance is average and surpasses some of us."
His mother, Rosemary Nantume, is all smiles. She says Mutebi will have a good future now that he has gone back to school.

"His father was a drunkard, that is why my son dropped out in P6. There was no school fees. I am delighted that he has picked up school again," Nantume said.

Role model
Mutebe says he emulated Abdu Karrim Balikoowa, now the director of Good Care Nursery & Primary school in Buyende district, who went back to Moonlight Primary School in Kagulu Sub County in 2010, having dropped out in P5 in 1995.
Then 28 years old, Balikoowa joined P6 with his son 13-year-old son, with whom they shared the same class and sat for their PLE together.
In his P7 vacation, Balikoowa turned his home into a primary school and employed qualified teachers to man it, as he joined Irundu Modern SS for his O' level, which he completed in 2015.
He's now a second year student at Bishop Willis Primary Teachers College in Iganga district.