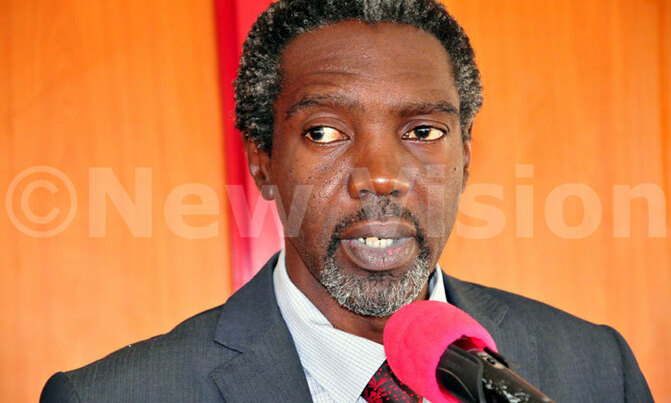 Akena, who was speaking at the memorial lecture of his father and former President, Dr. Apolo Milton Obote, dispelled critics who say that he has formed an informal alliance with the NRM.
Uganda People's Congress (UPC) party president, Jimmy Akena

The Uganda People's Congress (UPC) party president, Jimmy Akena, has called upon political actors to root for constructive engagement rather than confrontational politics as the country continues to debate the proposal to lift age caps for president and top local government officials.

Akena, who was speaking at the memorial lecture of his father and former President, Dr. Apolo Milton Obote, also dispelled critics who say that he has formed an informal alliance with the ruling National Resistance Movement (NRM).

Commenting on the proposed amendment of Article 102 (b) that caps the age for one to stand for president at above 35 years and not beyond 75, Akena said UPC is for constructive engagement and not submission.

"Constructive engagement is not submission. NRM is not my enemy neither is FDC. The bigger picture is the transition of leadership which we all want to witness," he said.

Igara West MP Rapheal Magyezi has proposed the amendment of the constitution to remove age limits for the President and other top local government positions. The ruling NRM has endorsed the proposal and lawmakers are gearing up for consultations as the Committee on Legal and Parliamentary Affairs scrutinizes the proposal.

Sort out UPC factions

In a critical discussion of the state of UPC, Makerere University History Don, Prof. Mwambutsya Ndebesa, also criticised the current crop of UPC leaders, urging them to put their house in order if they are to give Obote's legacy the historical accolade it deserves.

"UPC needs to put its house in order. Rethink its administration. You cannot have a party with two presidents," he said.

"The history of over staying in power has its origin in UPC. I remember when Obote was in exile, people asked him to handle over power within the party structures but he refused. We need to handle power to others when it is time," he added.

In reply Akena said Ndebeesa had provoked him to reflect.

"We can talk of unity but we must unity for a purpose. We cannot do it when we are tearing ourselves apart, when we have not embraced the democratic ideals of our forefathers. As UPC we have a big task," he said.

Dr. Joseph Bbosa, former acting UPC party president, who is in the other faction headed by Olara Otunnu, urged members to cure the faction nature of events in UPC and rather form a unified party that can attract the new members.

However, Akena, said there are no factions within UPC, warning that those hell bent on frustrating the party, that they will be dealt with in equal measure.

"I will not take the heat without putting up a fight. If you are one of those who have been frustrating the party beware. Enough is enough. Our mission is so far; we can't back down. At the moment we need somber politics," he said.

Don't fight over age limit

The keynote speech was delivered by controversial Kenyan lawyer and political commentator, Patrick Loch Otieno Lumumba, who urged Ugandans not to fight over the proposal to amend Article 102 (b) to remove age limits, saying that political actors need to discuss the matter amicably.

Lumumba told a conglomeration of UPC diehards at Sheraton Hotel that what is happening in Uganda today is akin to a mid-life crisis, a stage that can be easily overcome without fighting over political stalemates such as removing age limits.

"Age limit is midlife crisis which can be resolved by discussions and not fighting," he said, advising that the wisdom of democracy lies in respecting opponents.

The Kenyan poet has also criticised the emerging rise of negative ethnic nationalism that is clogging states in the region, especially Kenya.

EAC federation is a good move

"The rise of negative ethnic nationalism and narrow ethnic identities are becoming prominent. Africa is losing its place at the dinner table of human civilization not as waiters or food but as dinners," he said, rooting for the East African Community.

The idea of an integrated East Africa Community, Lumumba said, was crafted by Obote, Jomo Kenyatta of Kenya and Julius Nyerere of Tanzania, to among other things propel unification of people with similar attributes by uprooting colonial borders.

"As we talk about East African, we must remember that it was the departure of Obote that led to the death of EAC," he said, reminiscing what he called the golden days of the East African community, where citizens of Uganda, Kenya and Tanzania would use one currency, travel without border check points and study and work anywhere in East Africa without challenges.

Lumumba said when President Idi Amin overthrew Obote in 1971, the other leaders in the region found it hard to work with the new leader, hence the demise of the East Africa Community federation.

Lumumba also thanked President Yoweri Museveni for following into the footsteps of Obote, Nyerere and Kenyatta on the issue of reviving the East African Community.

He however, said: "You (Museveni and the other East African current leaders of Kenya, Tanzania, South Sudan, Rwanda and Burundi) are doing nothing new, but you are doing a good thing of following into the footsteps of Obote, Nyerere and Jomo Kenyatta. Western democracy is under scrutiny as being divisive and confrontational. It is not age, tribe, but the content of your character."

The meeting was attended by Miria Kalule Obote , Lira Municipality MP, Jimmy Akena , former vibrant UPC stalwarts, Dr. James Rwanyarare, Yona Kanyomozi, Chris Rwakasisi, Dr. Moses Apiliga and former Chwa County MP Okello Okello, among others.