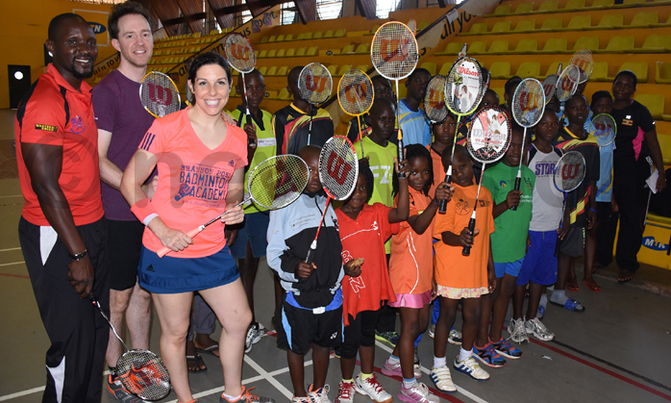 Badminton playing schools and the national team will benefit from the donation
Former US national team player and coach Shannon Pohl has donated equipment worth sh230m to the Uganda Badminton Association.
Pohl explained after handing over the equipment to national team coach William Kabindi and coordinator Annet Nakamya that she was inspired to set up a project called Racket for Uganda in Chicago after visiting Uganda during the Beijing Olympics qualifiers in 2007 because of the plight Ugandan athletes were going through.
"I came to compete in the Uganda International in 2007, I saw many didn't have shoes, rackets and when I reached USA I started the fundraising and Indeed Wilson Sporting Goods came to support the cause," Pohl explained.
Pohl accompanied by her husband Travis Mitchell also added that students at her badminton academy contributed a lot and committed to continue supporting Ugandans so that athletes are better natured for the future of the sport.
Annet Nakamya the coordinator of the training workshop at Lugogo disclosed after receiving the equipment from Pohl who is also a former singles and doubles world champion that only badminton playing schools and the national team will benefit from the donation.
"We are very grateful to this support and we are going to put it to good use. Our biggest challenge has been equipment because only one quality racket goes for $150 (sh548,000) and most of the athletes cannot afford it," Nakamya stated.
"Now we are confident that our national team has equipment to use for at least two years and the other equipment will be distributed to badminton playing schools," Nakamya explained.
The equipment included 239 rackets donated by Wilson, shuttlecocks, shoes, shirts and grip tapes.