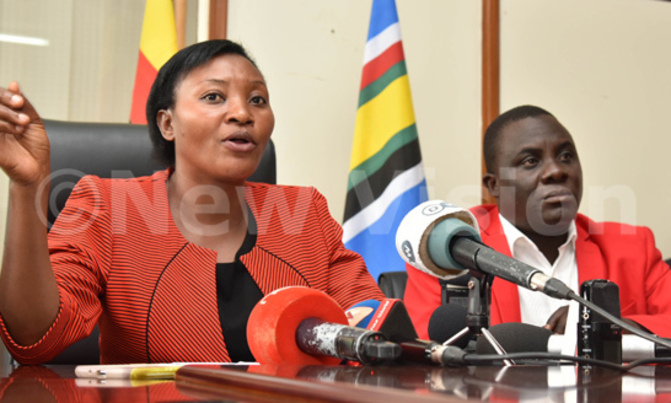 Kiiza also castigated Police for disrupting their Tuesday rally at Kasubi by firing bullets and teargas into the crowd
Winnie Kiiza addressing a press conference at Parliament. Looking on is Muwanga Kivumbi. Photo by Roderick Ahimbazwe
The Opposition has described as outrageous a Police directive stopping Opposition MPs from attending rallies that are not in their constituencies.

The Leader of Parliament, Winnie Kiiza, said the directive is "illegal."

Addressing a press conference today at Parliament, Kiiza flanked by other Opposition MPs, castigated Police for disrupting their Tuesday rally at Kasubi by firing bullets and teargas into the crowd.

"The regime is using Police and other state security organs to serve its interests. It is abuse of power," she asserted.

However, Kampala Metropolitan Police commander Frank Mwesigwa asserted Police's position.
"Police insists that it has banned joint consultative meetings of MPs. The MPs have been inciting the public into war or violence. If they do not follow what we tell them, we shall stop them."

The shadow minister for internal affairs Muhamad Muwanga Kivumbi said the directive by Police is a mockery to the sovereignty of Ugandans and the Uganda Constitution.

"Where does Police get powers to issue such directives? The directive has no basis in any of our laws. We shall, therefore, not obey it and we warn those behind it like IGP Kale Kayihura that they will be held accountable for the violation of the rights of Ugandans," Kivumbi warned.

Kivumbi and Kiiza argued that the injudicious acts by Police are a sign that the constitutional amendment Bill which seeks to remove the presidential age limit is not meant to benefit Ugandans, but rather to serve the interests of people in government.

The Lubaga North MP Moses Kasibante said by curtailing the freedom of Ugandans, Police is attempting to overthrow the constitution which says power belongs to the people.