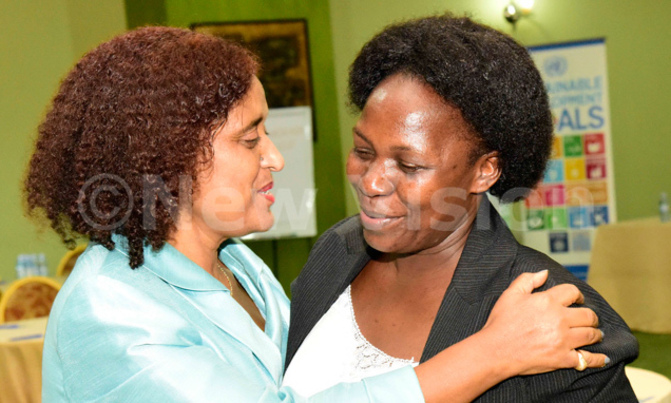 The state minister for local government, Jenipher Namuyangu, attributed the dwindling forest cover to poor governance and insufficient efforts to arrest the situation
Minister Jennifer Namuyangu (right) talks to United Nations Development Programme country director Almaz Gebru during the dialogue on the REDD+ Strategy at Imperial Royale Hotel in Kampala. Photo by Kennedy Oryema
The country loses about 100,000 hectares of forest cover every year, a situation that is worsening the effect of climate change according to the Ministry of Water and Environment.

The director of environment in the ministry, Paul Mafabi, said Uganda has lost 1 million hectares of forest cover over the last 10 years yet the Government has planted less than 150,000 hectares, creating a deficit.
"There is a big deficit and it is evident when one takes any direction from Kampala, the land is bare and the effects of climate change are more felt due to the absence of tree cover," Mafabi said.
Speaking at national policy dialogue to discuss proposed Uganda's Reducing Emissions from Deforestation and Degradation (REDD)+ strategy/ action plan at Imperial Royale Hotel, Kampala, Mafabi said there is a remarkable difference in degree of deforestation inside protected areas as compared to forest on private land.
REDD+ was developed as the forestry sector's response to mitigation of climate change in an effort to stabilize global Green House Gas Emissions (GHGs).
The permanent secretary from the ministry of water and environment Alfred Okot Okidi said forest cover currently stands at 3.6 million hectares which 15% of the total land area.
"Government has prioritised forest restoration as envisaged in existing targets provided in vision 2040 from the current 15% of total land area to 24%," he said.
He added that they have finalised plans to plant 200 million trees in all national forests and forest reserves across the country.
"Uganda's contribution to emission reduction is multidimensional, through plant planting, afforestation and reforestation programmes," he explained.
The state minister for local government, Jenipher Namuyangu, attributed the dwindling forest cover to poor governance and insufficient efforts to arrest the situation.
"The continued use of charcoal, firewood and other forest products puts us all under the cover of perpetrators of forest crimes. Our actions are encouraging deforestation and, therefore, making us abettors of forest crimes," Namuyangu said.
The minister added: "If we are to safeguard forests, we need individual action and responsibility. But we pay lip service when we begin to throw blame without using alternative sources of energy."

The meeting proposed strategies to address deforestation and forest degradation which include; Climate smart agriculture, sustainable fuel wood and charcoal use, large-scale commercial timber plantations, rehabilitation of natural forests in the landscape, energy efficient cooking, integrated wildfire management and livestock rearing in cattle corridor.