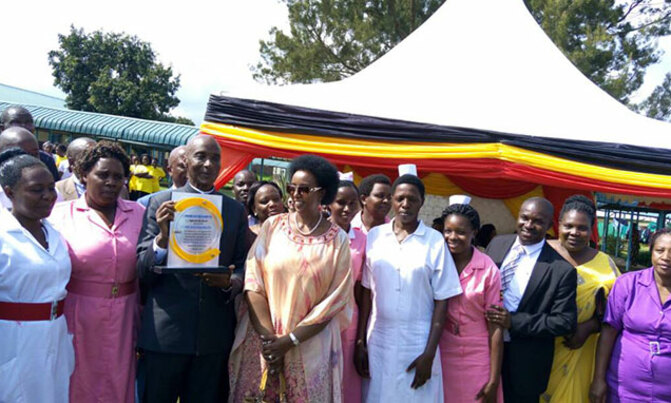 Kayihura also donated oxygen concentrator to the Hospital.
In a bid to improve the welfare of patients at Kisoro Hospital, the Inspector General of Police Gen. Kale Kayihura on Saturday donated 100 bed sheets, and blankets to the hospital.

Kayihura also donated oxygen concentrator to the Hospital.

The function was graced by dignitaries such as State Minister for Regional Cooperation Philemon Mateke, Kisoro MPs Sam Bitangaro, Sam Byibesho and James Nsaba Buturo.

Kayihura ordered for the establishment of Police Post near the hospital to ensure safety of hospital equipment. This was after several hospital leaders pointed out theft among the several challenges the hospital faces.

"Even the donated materials can be stolen by thieves. However, on the issue of insecurity at the hospital, it's an order; a Police post must be established. That one is finished," said Kayihura.

During the same function, Kayihura also commissioned 30 mattresses donated to Kisoro Hospital by Doctors of Global Health.

He stressed the need for working together among Kisoro communities to mitigate some of the problems facing the hospital such as accumulated hospital bills and water shortage.

Mateke in his speech noted that Kayihura has always helped people of Kisoro in different ways such as participating in marathons among others. He also commended Kayihura for maintaining peace and internal order in the country, arguing that he deserved the re-appointment.

"Police is a civil arm of the Government and has done recommendable work for the country. Kayihura also has love for Kisoro District," he said.

He added: "Kisoro being at the border of Uganda and Congo, Kisoro Hospital usually receives overwhelming numbers of patients from the two countries and this sometimes leads to the shortage of medicine and other medical services."

Earlier lone, the Kisoro Hospital Medical Superintendent, Micheal Baganizi had pointed out other challenges facing the district such as shortage of means of transport, poor status of male and female wards and water shortage.