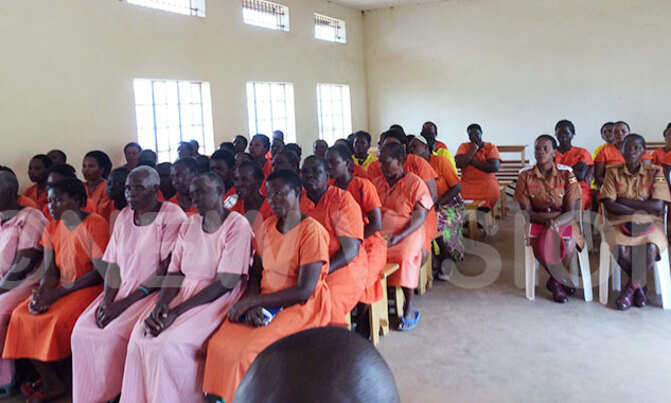 The request was made in a song presented to the EU head of delegation Atilio Pacifici and other heads of missions accredited to Uganda who were on a fact finding mission ahead of the commemoration of the 15th World Day against Death Penalty.
A somber mood engulfed the female wing of Luzira Prison as inmates on death row wept while begging for mercy and asking Government to give them a second chance to life.

The request was made in a song presented to the EU head of delegation Atilio Pacifici and other heads of missions accredited to Uganda who were on a fact finding mission ahead of the commemoration of the 15thWorld Day against Death Penalty.

With tears flowing down their faces, they admitted to have committed crimes but they have realized their mistakes and apologize to the public, they have reformed and promise to live a responsive life if given a second chance to live, the inmates sung.

"It's true we have accepted we made a mistake, we seek for your forgiveness in repentance. Death penalty should be abolished, we won't do it again, we are broken please don't kill us we are so sorry, the inmates cried as they begged for mercy.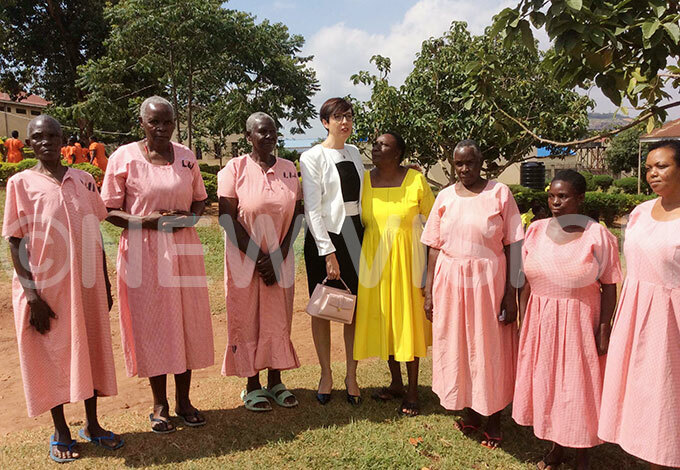 Some of the death row inmates pose for a picture with Stephanie Rivoal, the French Ambassador

"We apologize to our country; we apologize to fellow Uganda citizens. We apologize to the people we offended. We are remorseful because our acts for that reason reformed, the inmates sung as they asked for forgiveness.

"The European Union strongly opposes the death penalty in all circumstances, and works towards the universal abolition of the death penalty, if necessary by lobbying for the immediate establishment of a moratorium which paves the way for its abolition," Pacifici informed inmates.

For the last 12 years, on October 10 of every year, nations have commemorated World Day against the Death Penalty. But Uganda still retains the death penalty although no execution has been carried out since 1999, when Haji Mustapha Sebirumbi was sent to the gallows.

Currently, 155 out of 195 independent states have abolished the death penalty in law or practice. 105 states have fully abolished the death penalty including 19 from Africa, 6 have abolished for ordinary crimes, 48 states have abolished in practice while 36 are executing.

Although Uganda last carried out executions in 1999, courts still sentence people to suffer death. Uganda's Prisons currently accommodate 198 death row inmates of these, 11 are female while 187 are male. For an execution to be carried out, the President has to sign a warrant first.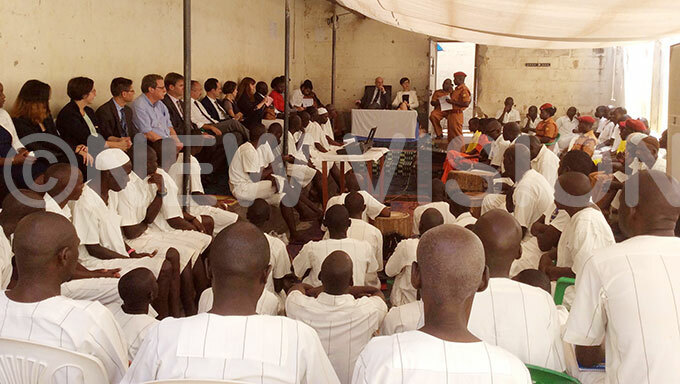 The Officer in Charge of Luzira Upper Prison Celestine Tumwesigye addresses death row inmates as Stephanie Rivoal the French ambassador, the EU head of delegation Atilio Pacifici and other delegates look on.


Annet Nakafeero, a former death row prisoner in an interview with the New Vision says she collapsed the moment court pronounced that she was sentenced to suffer death.

"I fainted and collapsed in the dock but gained cautiousness while in the condemn section of Luzira Women's prison. Being a single parent, I kept thinking of what would befall my children in case I died in prison," Nakafeero narrates.

Although her penalty was reduced, she did not regain freedom since High Court sentenced her to 45 years after mitigation hearing. She said she was surprised when the High Court gave her a long sentence despite her pleadings and appeals by her children and prison authorities.

Nakafeero said she had an abusive marriage which resulted into the murder of her husband.

"It is true I committed a crime but I apologized and given a chance, I am a reformed person and ready to go back to my community and sensitize people against wrong doing. I have learnt a lot and I feel changed," narrated Nakafeero.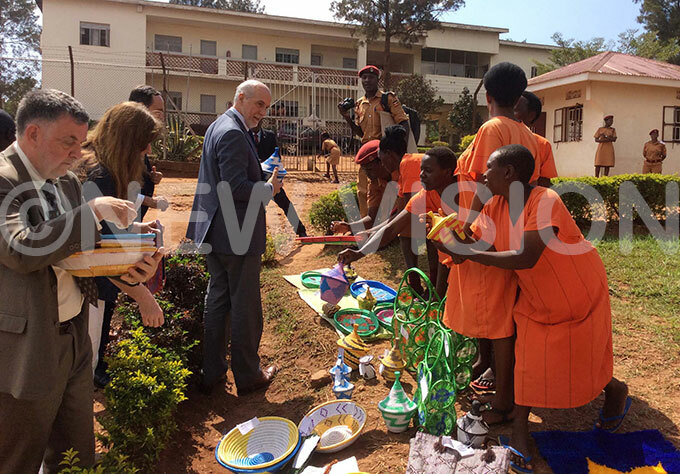 Inmates of Luzira Women's Prison presenting their crafts to the EU heads of delegation Atilio Pacifici as other heads of missions look on


Despite the High Court ruling, Nakafeero is still waiting for her final verdict after thirteen years.

Jamilah Zubedah, the youngest death row inmate who was imprisoned at the age of 14 for murdering a man she claimed to have abducted her and forced her into marriage with his five wives says she did not intend to kill him.

"I was abducted and forced into marriage, while in abduction, I decided to mix sleeping tablets into the man's food so that I could take advantage of his sleep to escape, unfortunately his children ate the food and died," Zubedah confessed.

"I apologize for that I did and pray that Government gives me a second chance because I was young but now I have grown up and I have learnt how to resolve problems," Zubedah cried as she begged for mercy.

Foundation for Human Right's Initiative and other partners who were in the campaign for the abolition of the death penalty carried out various activities including a solidarity visit to death row inmates at the Women's prison and the condemn section of Luzira.

Other Diplomats present included; Stephanie Rivoal the French Ambassador, Hugo Verbist the Belgian Ambassador, Henk Jan Bakker Netherlands Ambassador, Domenico Fornara the Italian Ambassador, Finbar Obrien Irish Ambassador, Petra Kochendoerfer Charge d'Affaires- German Embassy and Mogens Pedersen the Danish Ambassador