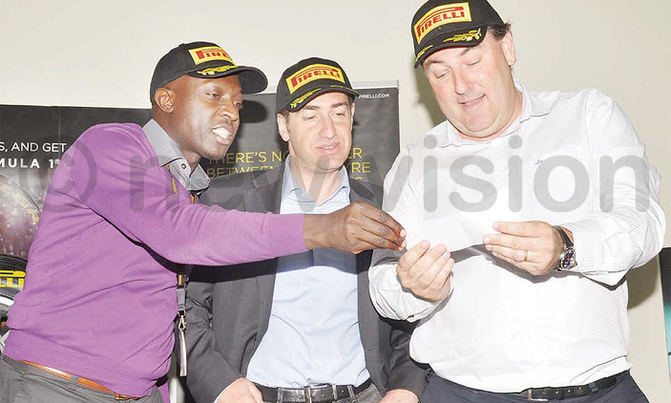 The last draw from which three other winners will be picked will be held later this month
Richard Okullo usually watches Formula 1 races with keen interest on TV.
However, next month, he will get a chance to watch the final race of the 2017 Formula 1 season live after being drawn as the winner from the fifth draw of the City Tyres/Pirelli Formula 1 promotion.
Okullo a teacher who bought his tyres from the City Oil station in Nakawa was picked by Christophe Vanier from the Pirelli Tyre Export Department-Madagascar who witnessed the draw alongside Pirelli East Africa Area Manager Giovanni Tolasi and City Tyres' Marketing and General Manager Herbert Bashaasha and Venkatesh Kumar respectively, at City Oil Bombo Road Service station yesterday.
The draw also had other winners including Kyagalanyi Coffee Factory who will have one of their vehicles getting full service for free, Barbara Nakatudde who will get 50 litres of fuel and Kijjambu and Sons General Hardware who will pick two of their staff to enjoy a dinner at Café Javas.
"The promotion has been going on well and judging from the previous races, there is a big number of fans watching which shows that the promotion has gone to another level," City Tyres Marketing Manager Herbert Bashaasha noted.
"Everything is ready. Pirelli has already secured tickets in the VIP section, and the booking at the seven star JW hotel is already booked and most of the sites to be visited by the winners have been alerted, so the winners should just prepare to travel," Bashaasha added.
"We would like to congratulate City Tyres who have been our partners for over 25 years, for offering Ugandans a chance of watching the incredible Formula 1 races. It is a great experience and the winners will be able to experience extra ordinary things," Vanier stated.
To enter the draw, buy four Pirelli tyres of any segment and you are in. The last draw from which three other winners will be picked will be held later this month.